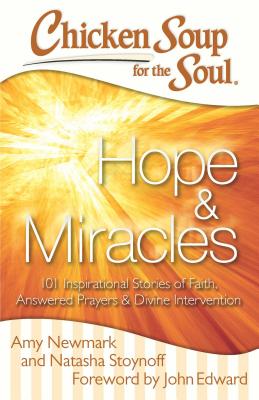 Chicken Soup for the Soul (Paperback)
Hope & Miracles: 101 Inspirational Stories of Faith, Answered Prayers, and Divine Intervention
Chicken Soup for the Soul, 9781611599442, 400pp.
Publication Date: February 10, 2015
* Individual store prices may vary.
Description
These 101 miraculous stories of hope, faith, divine intervention & answered prayers will amaze you.
Good things do happen to good people! You will be encouraged and uplifted as you read these stories about powerful hope, miraculous healing, divine intervention, messages from heaven, answered prayers and beating the odds, including:
The mother of a Sandy Hook shooting victim who prayed for a sign that her son Jesse was okay and minutes later saw "Jesse & Jesus" written in the sky
The businessman turned pastor who didn't believe in miracles until he laid hands on a paralyzed man who then walked into his office a few weeks later
The brother and sister who were reunited in Australia 75 years after they were separated at a British orphanage during World War II
The grieving daughter who fondly recalled her mom's appearance on Let's Make a Deal, went to the show, got picked from the audience, and won a new car
The woman whose mother's voice forced her off a bench seconds before a tree fell on it, on the one-year anniversary of her mom's death
And 96 more stories that will make you say "Wow!"
About the Author
John Edward is an internationally acclaimed psychic medium and New York Times bestselling author.