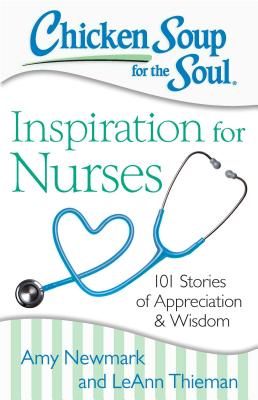 Chicken Soup for the Soul (Paperback)
Inspiration for Nurses: 101 Stories of Appreciation and Wisdom
Chicken Soup for the Soul, 9781611599480, 400pp.
Publication Date: July 21, 2015
Other Editions of This Title:
Paperback (4/18/2017)
* Individual store prices may vary.
Description
Nurses will find their own hearts and souls in these pages — and the inspiration they need to cope in health care today.

Most nurses didn't choose their careers because of great hours, pay and working conditions! Chicken Soup for the Soul: Inspiration for Nurses reminds them why they entered the profession… and why they stay.

Working in health care never gets easier; staying positive and engaged can be difficult. And yet nurses show up… over and over again… day after day, selflessly nurturing others with their hands and their hearts.

This collection of true stories champions nurses' daily contributions, commitments and sacrifices, and depicts the compassion, intelligence and humor needed to meet today's demands. Through laughter and tears, nurses share their stories to inspire and fortify one another, so together they can continue their competent, compassionate service.

Regardless of age or area of practice, nurses will discover the universality of caring, the power of their skillful hands, bright minds and devoted hearts. These stories will bless them with the hope, health and healing they bring to all those they touch. Because they deserve it.
About the Author
LeAnn Thieman is an acclaimed inspirational speaker, nurse, and coauthor of the bestsellers Chicken Soup for the Nurse's Soul and Chicken Soup for the Nurse's Soul Second Dose.