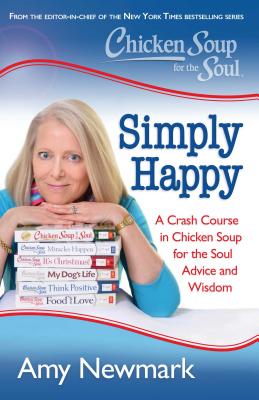 Chicken Soup for the Soul (Paperback)
Simply Happy: A Crash Course in Chicken Soup for the Soul Advice and Wisdom
Chicken Soup for the Soul, 9781611599497, 272pp.
Publication Date: October 4, 2016
* Individual store prices may vary.
Description
A Publishers Weekly Top Ten Lifestyle Pick for Fall 2016. Amy Newmark distills advice and wisdom from her life and more than 20,000 Chicken Soup for the Soul stories into this crash course in how to be happy. You'll be entertained, energized, and enlightened by dozens of practical, simple tips that work instantly to improve your everyday life and your future. Learn about: using thankfulness to change your relationships - easy time management tips - having fun while raising responsible kids - using the power of no to make time for what matters - making a habit of stepping outside your comfort zone - harnessing your dreams to discover what you already know - changing your life forever through forgiveness - six easy ways to reduce stress and keep it away - why you need to eliminate toxic people from your life - how to get the best out of everyone--family, friends and strangers - why you should strive for excellence but not perfection - and many more life-changing tips you can implement instantly.