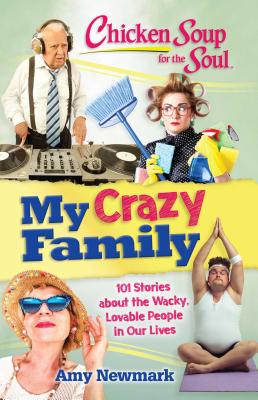 Chicken Soup for the Soul
My Crazy Family: 101 Stories about the Wacky, Lovable People in Our Lives
Paperback

* Individual store prices may vary.
Other Editions of This Title:
Paperback (9/7/2021)
Paperback (9/14/2021)
Paperback (2/9/2016)
Paperback (2/9/2016)
Paperback (3/20/2018)
Paperback (8/29/2017)
Description
Love your crazy family? These hilarious and heartwarming stories introduce you to the 101 wacky, yet lovable, relatives in our writers' lives. You won't stop laughing!

Everyone thinks they have a crazy family, and most of us wouldn't have it any other way. We tell stories about our bizarre family traditions, our eccentric relatives, and our favorite disastrous vacations or weird holiday gatherings. The 101 stories in this heartwarming collection cover the gamut of family members, and they'll have you laughing and nodding your head in recognition. Those quirky relatives are worth celebrating, because you know you love them. And somehow, underneath it all, you learn a lot from them too! Share the fun with your in-laws, parents, children, siblings and cousins. It's a great way to show that you love them, or to welcome someone new to your own crazy family.
Chicken Soup for the Soul, 9781611599770, 400pp.
Publication Date: April 10, 2018
About the Author
Amy Newmark is publisher, editor-in-chief, and coauthor of the Chicken Soup for the Soul series.