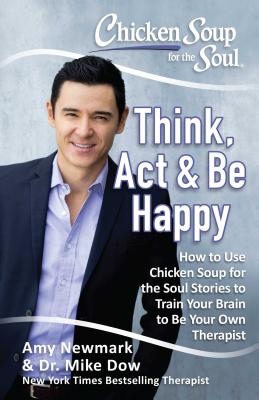 Chicken Soup for the Soul (Paperback)
Think, Act & Be Happy: How to Use Chicken Soup for the Soul Stories to Train Your Brain to Be Your Own Therapist
Chicken Soup for the Soul, 9781611599794, 320pp.
Publication Date: September 25, 2018
Other Editions of This Title:
Paperback (10/29/2050)
Paperback (10/29/2050)
Paperback (9/24/2019)
Paperback (10/6/2015)
* Individual store prices may vary.
Description
Noted psychotherapist Dr. Mike Dow uses Chicken Soup for the Soul stories to show you how to be your own therapist. He addresses the key issues that most of his patients have and clearly explains how you can use the same techniques he uses with patients to solve your problems at home. This combination of personal stories, clear explanations, and fun journal entries you write yourself will inspire you and help you work on the problem areas in your life.

Cognitive Behavioral Therapy. It's a term that sounds daunting and intimidating, but as Dr. Mike Dow explains in this insightful book, it's a therapy that is quite practical and easy to use. In fact, you can teach it to yourself. By reading these stories from real people who overcame their own challenges, and by following the common-sense steps explained by Dr. Dow, you'll be empowered to train your brain to become your own therapist, and learn to think, act, and be happy, for real.
About the Author
Amy Newmark is author, publisher, and editor-in-chief of the Chicken Soup for the Soul book series.

Dr. Mike Dow, Psy.D, is a highly sought-after psychotherapist and the New York Times bestselling author of The Brain Fog Fix, Diet Rehab and Heal Your Drained Brain. Throughout his career, he has hosted several hit television series, served as a go-to expert in relationships, brain health, addiction and mental illness, and can currently be heard weekly on Hay House Radio's The Dr. Mike Show.