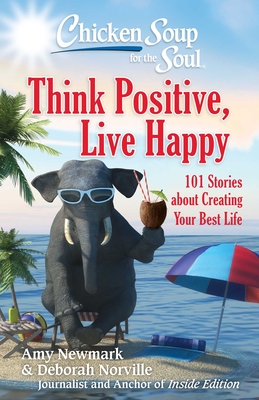 Chicken Soup for the Soul
Think Positive, Live Happy: 101 Stories about Creating Your Best Life
Paperback

* Individual store prices may vary.
Other Editions of This Title:
Paperback (10/27/2020)
Paperback (10/6/2015)
Paperback (10/27/2020)
Paperback (9/25/2018)
Description
These 101 true stories will inspire you to think positive to live a happier life.
Everyone can use a little more positive thinking—to create an even better life. Your attitude is a powerful tool, and these stories from real people show you how to think yourself into a more fulfilling, happier life.
As co-author Deborah Norville says, "Change your thoughts and you'll change your world. Sometimes you need an example to follow, a how-to that works for you. These stories can help you do just that."
In this collection, you'll read stories about:
making every day count through mindfulness and thankfulness
trying new things and stepping outside your comfort zone
simple phrases that could change your life
turning lemons to lemonade and finding the silver lining in every situation
finding your inner strength and turning adversity into opportunity
counting your blessings and using the power of gratitude
rebooting your life and living with passion and purpose
how volunteering and making a difference can turn your life around
strategies that work for bringing joy back into your life
techniques for managing cancer and other health challenges
Chicken Soup for the Soul, 9781611599923, 368pp.
Publication Date: September 24, 2019
About the Author
Amy Newmark is Publisher and Editor-in-Chief of Chicken Soup for the Soul.

Deborah Norville is the anchor of Inside Edition, the nation's longest running, top-rated syndicated newsmagazine. The two-time Emmy-Award winner and lecturer is also a New York Times best-selling author. She and her husband have three children.