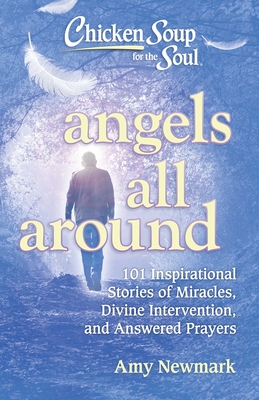 Chicken Soup for the Soul
Angels All Around: 101 Inspirational Stories of Miracles, Divine Intervention, and Answered Prayers
Paperback

* Individual store prices may vary.
Other Editions of This Title:
Paperback (11/1/2016)
Description
These true personal stories of angels, miracles, answered prayers, and divine intervention will deepen your faith and open your eyes to the angels, guardians, and guides in your life.
Miracles happen every day to people from all walks of life. And angels are all around if we are open to seeing them and accepting their help. You'll be inspired, awed and comforted by these 101 stories from ordinary people who've had extraordinary experiences, including:
The young family caught in a snowstorm who were rescued by a man named David and hosted in his cabin—who learned afterwards that David and his family had died three years earlier on the same highway they were stuck on
The widow who had been making snow angels with her husband for decades and then found two perfect ones in the fresh snow by his memorial bench one wintry morning—with no footprints leading to them
The daughter whose dying mother promised to send flowers, who returned from the funeral to find her mom's almost dead Christmas cacti had blossomed, covering an entire room with flowers
The mother who saw her husband hoisting their little girl by one arm from a lake she'd fallen into, but didn't see the man her husband says was holding the girl's other arm
The notoriously grumpy old man in a nursing home who spent a whole day happily saying goodbye to everyone and thanking them because an angel told him, correctly, it would be his last day on earth
The teenager working in a hotel kitchen who was pushed away by an invisible force while standing in a group of people, and just missed being hit by a large piece of equipment that fell right where she'd been standing
Chicken Soup for the Soul, 9781611599930, 352pp.
Publication Date: August 27, 2019
About the Author
Amy Newmark is Publisher and Editor-in-Chief of Chicken Soup for the Soul.