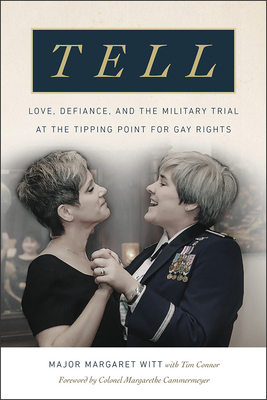 Tell (Hardcover)
Love, Defiance, and the Military Trial at the Tipping Point for Gay Rights
ForeEdge, 9781611688429, 288pp.
Publication Date: October 3, 2017
* Individual store prices may vary.
Description
In 1993 Margie Witt, a young Air Force nurse, was chosen as the face of the Air Force's "Cross into the Blue" recruitment campaign. This was also the year that President Clinton's plan for gays to serve openly in the military was quashed by an obdurate Congress, resulting in the blandly cynical political compromise known as Don't Ask, Don't Tell. Contrary to its intent, DADT had the perverse effect of making it harder for gay servicemen and -women to fight expulsion. Over the next seventeen years more than 13,000 gay soldiers, sailors, marines, coast guard, and airmen and -women were removed from military service. That is, until Margie Witt's landmark case put a stop to it. Tell is the riveting story of Major Margaret Witt's dedicated and decorated military career as a frontline flight nurse, and of her love and devotion to her partner—now wife—Laurie Johnson. Tell captures the tension and drama of the politically charged legal battle that led to the congressional repeal of the controversial law and helped pave the way for a suite of landmark political and legal victories for gay rights. Tell is a testament to the power of love to transform hearts and minds, as well as a celebration of the indomitable spirit of Major Witt, her wife Laurie, her dedicated legal team, and the brave men and women who came forward to testify on her behalf in a historic federal trial. "The name Margaret Witt may join the canon of US civil rights pioneers." —Guardian "Major Witt's trial provided an unparalleled opportunity to attack the central premise of [Don't Ask, Don't Tell] . . . and set an important precedent."— New York Times "A landmark ruling."—Politico
About the Author
MAJOR MARGARET WITT is a decorated twenty-year veteran of the U.S. Air Force who made history in 2010 with her successful challenge of the notorious Don't Ask, Don't Tell law, which prohibited known gays and lesbians from serving in the U.S. military. She is currently a rehabilitation supervisor for the Portland VA Health Care System in Portland, Oregon. TIM CONNOR is an investigative reporter specializing in legal and science journalism. He lives in Washington State.