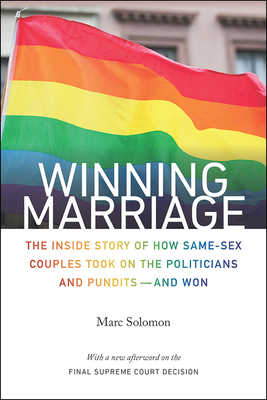 Winning Marriage (Paperback)
The Inside Story of How Same-Sex Couples Took on the Politicians and Pundits--And Won
Foreedge, 9781611688993, 412pp.
Publication Date: September 8, 2015
* Individual store prices may vary.
Description
In this updated, paperback edition of Winning Marriage, Marc Solomon, a veteran leader in the movement for marriage equality, gives the reader a seat at the strategy-setting and decision-making table in the campaign to win and protect the freedom to marry. With depth and grace he reveals the inner workings of the advocacy movement that has championed and protected advances won in legislative, court, and electoral battles over the years since the landmark Massachusetts ruling guaranteeing marriage for same-sex couples for the first time. The paperback edition includes a new afterword on the historic 2015 Supreme Court ruling on marriage that includes practical lessons from the marriage campaign that are applicable to other social movements. From the gritty clashes in the state legislatures of Massachusetts and New York to the devastating loss at the ballot box in California in 2008 and subsequent ballot wins in 2012 to the joys of securing President Obama's support and achieving ultimate victory in the Supreme Court, Marc Solomon has been at the center of one of the great civil and human rights movements of our time. Winning Marriage recounts the struggle with some of the world's most powerful forces--the Catholic hierarchy, the religious right, and cynical ultraconservative political operatives--and the movement's eventual triumph.
About the Author
MARC SOLOMON has served as the national campaign director for Freedom to Marry since 2010 where he directed programs to win marriage nationwide. In 15 years of work on marriage equality, he led the campaign to protect marriage in Massachusetts and played leading roles in multiple other state campaigns. He has innovated programs to make advances with both the Democratic and Republican Parties, and has led efforts to enlist elected officials and business leaders to the cause. He is a regular media spokesperson--on television and radio and in print.