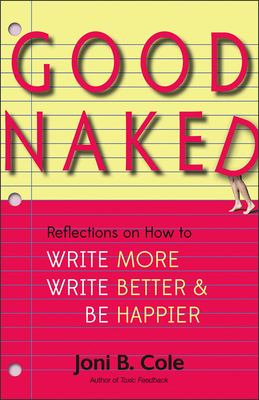 Good Naked (Paperback)
Reflections on How to Write More, Write Better, and Be Happier
University Press of New England, 9781611689112, 208pp.
Publication Date: April 4, 2017
* Individual store prices may vary.
Description
In Good Naked, acclaimed author Joni B. Cole shows readers how to make the writing process not only more productive, but less maddening, more inviting, and even joyful, at least a good part of the time. She explains how sharing early drafts is "good naked"—you're exposing your creative process in all its glory. Through a mix of engaging stories and practical wisdom, all delivered with sheer good humor, Cole addresses the most common challenges writers confront and offers disarmingly simple but effective solutions. She debunks popular misconceptions about how we are supposed to write and replaces them with strategies that actually work to get us started and stay motivated. (Searching for your muse? Try looking in the fridge.) With a do-this-not-that directness, she sets writers free from debilitating attitudes, counterproductive practices, and energy-draining habits that undermine confidence and creativity. Equipped with experience and a refreshing respect for anyone who wants to write, Cole also infuses every chapter with insights into craft and narrative technique—because the truly happy ending is not just that we write more, but that we write well. If you have ever experienced a sense of dread or intimidation at any stage of the creative process, or even if you simply want to write more, write better, and be happier, this intelligent, funny, and generous guide will not only inspire you to head over to your desk, but will also cheer you on once you're there.
About the Author
Nominated for a US Fellowship Award and Pushcart Prize, Joni B. Cole has authored two books for writers, including Good Naked: Reflections on How to Write More, Write Better, and Be Happier (listed as one of the "Best Books for Writers" by Poets & Writers magazine). She is also the author of the acclaimed essay collection, Another Bad-Dog Book: Essays on Life, Love, and Neurotic Human Behavior, and creator of the three-volume "This Day" series that shares a day in the life of hundreds of women across America ("fascinating and eye-opening," Publisher's Weekly).  Joni is on the creative writing faculty of the New Hampshire Institute of Art, and teaches workshops within the Master of Arts in Liberal Studies program at Dartmouth College. She is the founder of the Writer's Center of White River Junction, VT, and also leads expressive writing workshops at a diversity of nonprofit and educational organizations. Joni is a frequent speaker at conferences and universities around the country, and is a contributor to The Writer magazine. She lives in Vermont and has two daughters. For more info, email jonibethcole@gmail.com.