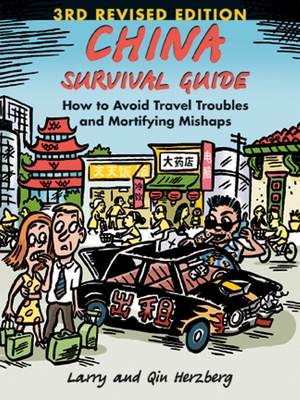 China Survival Guide (Paperback)
How to Avoid Travel Troubles and Mortifying Mishaps
Stone Bridge Press, 9781611720105, 262pp.
Publication Date: December 10, 2013
* Individual store prices may vary.
Description
"An ideal, pocket-sized, 264 page compendium packed from cover to cover with practical advice, insightful commentary, and invaluable tips on places to go, things to see, what to do, and what to avoid. . . . China Survival Guide should be considered an essential 'take-along' for anyone visiting China for business or pleasure." -- Midwest Book Review, May 2014
"Like having] a professional guide walking alongside you answering your many questions. . . . A must for your next China visit "--Travel Answer Man Online
Compact, affordable, reliable, a delight to read--these qualities are what has made China Survival Guide so popular with first-time and seasoned China travelers. This third edition has a brand new section on train travel, plus updates and fresh recommendations. Includes practical strategies for lodging, walking, haggling, medical and bathroom emergencies, etiquette, crowds, and learning the twin arts of patience and persistence.
Frequent China visitors Larry Herzberg and Qin Herzberg are professors of Chinese language and culture at Calvin College in Michigan.
About the Author
Larry Herzberg and Qin Herzberg, a married couple, are professors of Chinese language and culture at Calvin College in Michigan. They travel to China every year, both with students and without, and have been featured travel experts on MSNBC and other outlets. Qin and Larry live in Grand Rapids, Michigan, and are also coauthors of Basic Patterns of Chinese Grammar: A Student's Guide to Correct Structures and Common Errors (Stone Bridge Press, 2011) and Chinese Proverbs and Popular Sayings: With Observations on Culture and Language (Stone Bridge Press, 2012). Larry Herzberg did his PhD work in Chinese and founded the Chinese language programs at Albion College and Calvin College; he is also a professional violinist. In 2011 Larry was awarded the Presidential Award for Exemplary Teaching, the highest honor that Calvin College bestows on a faculty member. Qin Xue Herzberg, a graduate of Beijing Normal University, has taught Chinese for decades and has been an upper-level Chinese professor at Calvin College for more than ten years.