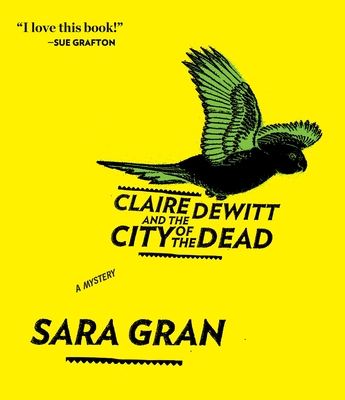 Claire DeWitt and the City of the Dead (CD-Audio)
HighBridge Company, 9781611742565
Publication Date: June 2, 2011
Other Editions of This Title:
Digital Audiobook (6/1/2011)
Paperback (5/1/2012)
Hardcover (6/2/2011)
Pre-Recorded Audio Player (5/24/2011)
* Individual store prices may vary.
Description
Claire DeWitt is not your average private investigator. She has brilliant skills of deduction and is an ace at discovering evidence. But Claire also uses her dreams, omens, and mind-expanding herbs to help her solve mysteries, and relies on Détection—the only book published by the great and mysterious French detective Jacques Silette before his death.

The tattooed, pot-smoking Claire has just arrived in post-Katrina New Orleans, the city she's avoided since her mentor, Silette's student Constance Darling, was murdered there. Claire is investigating the disappearance of Vic Willing, a prosecutor known for winning convictions in a homicide-plagued city. Has an angry criminal enacted revenge on Vic? Or did he use the storm as means to disappear? Claire follows the clues, finding old friends and making new enemies—foremost among them Andray Fairview, a young gang member who just might hold the key to the mystery.
About the Author
SARA GRAN is the author of two critically acclaimed novels, Come Closer, a psychological thriller and Dope, a noir homage. A former bookseller and native of Brooklyn who lived in New Orleans during Katrina, she now lives in Northern California.
CAROL MONDA is a two-time Audie® Award-winning narrator, with over 15 years of experience. She is also a veteran actress and voiceover artist for stage, radio, television, and film.
Praise For Claire DeWitt and the City of the Dead…
"Beautifully written in a tight, quirky style that distinguishes Gran as one of the more original writers working today."
—Associated Press
"The mystery captures post-Katrina New Orleans like no other novel yet has . . .DeWitt's mesmerizing character and memorable voice take your breath away."
—The Times-Picayune
"The most unusual, intelligent thriller I have read for a long time."
—Express (UK)
"The mystery of Vic Willing's disappearance pulls you in, but Gran's enticing characters will keep you hooked."
—BookPage
"With Claire DeWitt and the City of the Dead, Gran elevates the detective story as literature and brings together a sophisticated mystery, a witty, antagonistic private eye, and a city she knows too well."
—The Atlantic
"The dead-eyed face of post-Katrina New Orleans that stares out from Claire DeWitt and the City of the Dead is every bit as raw as the battered mug [Gran] drew of 1950s Brooklyn in Dope. But hope is on the way in the exotic person of Claire DeWitt. . . Claire is a charmer, but there's nothing cute about her paranormal visions of a city living in torment."
—New York Times
"A high-proof Nancy Drew drawn straight from the tradition of an opiated Holmes."
—Philadelphia CityPaper
"delicious and addictive."
—Salon
"Provides narration that is both engaging and entertaining. . . . Carol Monda perfectly renders Claire's sarcastic repartee and keeps this tightly paced narrative moving quickly."
—Publishers Weekly