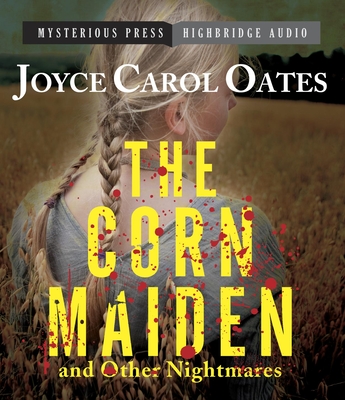 The Corn Maiden and Other Nightmares (CD-Audio)
Novellas and Stories of Unspeakable Dread
Mysterious Press-HighBridge Audio, 9781611746013
Publication Date: November 1, 2011
Other Editions of This Title:
Digital Audiobook (10/31/2011)
Hardcover (11/1/2011)
* Individual store prices may vary.
Description
An incomparable master storyteller in all forms, in The Corn Maiden and Other Nightmares Joyce Carol Oates spins six imaginative tales of suspense. "The Corn Maiden" is the gut-wrenching story of Marissa, a beautiful and sweet, but somewhat slow, eleven-year-old girl with hair the color of corn silk. Her single mother comes home one night to find her missing and panics, frantically knocking on the doors of her neighbors. She finally calls the police, who want to know why she left her young daughter alone until 8:00 o'clock. Suspicion falls on a computer teacher at her school with no alibi for the time of the abduction. Obvious clues—perhaps too obvious—point directly to him. Unsuspected is Judah (born Judith), an older girl from the same school who has told two friends in her thrall of the Indian legend of the Corn Maiden, a girl sacrificed to ensure a good crop. The seemingly inevitable fate of Marissa becomes ever more terrifying as Judah relishes her power, leading to unbearable tension with a shocking conclusion.
 
 "Helping Hands," published here for the first time, begins with an apparently optimistic line: "He came into her life when it had seemed to her that her life was finished." A lonely woman meets a man in the unlikely clutter of a dingy charity shop and extends friendliness, which soon turns to quiet and unacknowledged desire. With the mind-set of a victim, struggling to overcome her shyness and fears, she has no idea what kinds of doors she may be opening.
 
 The powerful stories in this extraordinary collection further enhance Joyce Carol Oates's standing as one of the world's greatest writers of suspense.
About the Author
In addition to many prize-winning and bestselling novels, JOYCE CAROL OATES is the author of a number of works of award-winning gothic fiction. In 1994, Oates received the Bram Stoker Lifetime Achievement Award in Horror Fiction. She lives in Princeton, New Jersey.
CHRISTINE WILLIAMS mesmerized audiences as a lead actor for the world-renowned Oregon Shakespeare Festival for 8 years, and she has also sung with the Rogue Opera. She currently teaches singing to actors and acting to singers at SOU, and narrates fiction and nonfiction audiobooks, with a special fondness for character work. On weekends, she loves to hike to mountaintops, and, if it gets too cold, she can make fire with sticks.
ADAM VERNER is a voice over artist and actor. He has worked extensively on stage and screen and narrated a diverse array of audiobooks, from fiction and fantasy to nonfiction self-help and history. He's been involved in the world of audiobooks since 1980 when his father recorded Golden Books for him to listen to. Adam holds his MFA in acting from the Chicago College of Performing Arts at Roosevelt University and his commercial voice over clients include Gillette, Kmart, McDonalds, Harley Davidson, Wrigley, Keystone Beer, and many others. If he could be any animal in the world it would definitely be an orangutan.
Praise For The Corn Maiden and Other Nightmares: Novellas and Stories of Unspeakable Dread…
"While the shadows of Poe and Hitchcock loom over these tales, it's clear that Oates herself is a master at creeping out her readers."
—Kirkus Reviews
"Psychologically compelling and disturbing, this volume is a strong addition to Oates's vast body of work."
—Library Journal
"This chilling audio edition of the latest collection offers up a selection of seven dark and psychologically thrilling tales."
—Publishers Weekly
"A fine account makes for a vivid set of tales recommended for any mystery audio collection."
—The Bookwatch