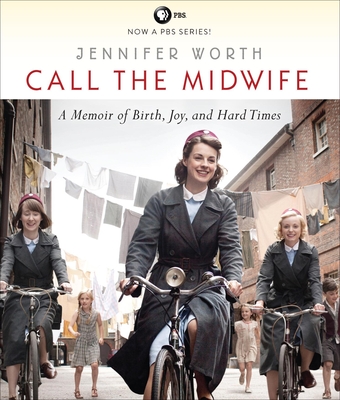 Call the Midwife (CD-Audio)
A Memoir of Birth, Joy, and Hard Times
HighBridge Company, 9781611749243, 720pp.
Publication Date: August 28, 2012
Other Editions of This Title:
Digital Audiobook (8/27/2012)
CD-Audio (2/4/2014)
CD-Audio (2/4/2014)
Paperback (8/29/2012)
Paperback, Chinese (6/6/2013)
Audio Cassette (12/1/2006)
Paperback (1/1/2012)
Prebound (8/29/2012)
* Individual store prices may vary.
Description
At the age of twenty-two, Jennifer Worth leaves her comfortable home to move into a convent and become a midwife in post war London's East End slums. The colorful characters she meets while delivering babies all over London—from the plucky, warm-hearted nuns with whom she lives to the woman with twenty-four children who can't speak English to the prostitutes and dockers of the city's seedier side—illuminate a fascinating time in history. Beautifully written and utterly moving, Call the Midwife will touch the hearts of anyone who is, and everyone who has, a mother.
About the Author
JENNIFER WORTH (1935-2011) trained as a nurse at the Royal Berkshire Hospital in Reading, England. She then moved to London to train as a midwife. She later became a staff nurse at the Royal London Hospital, Whitechapel, and then ward sister at the Elizabeth Garrett Anderson Hospital in Euston. Music had always been her passion and in 1973 Jennifer left nursing in order to study music intensively. She gained the Licentiate of the London College of Music in 1974 and was awarded a fellowship ten years later.
NICOLA BARBER has appeared on stage in New York and across the country, including with Scarlett Johnansson in <i>The Nanny Diaries.</i> She holds a degree in theatre arts from UNC-Chapel Hill, and has taken classes at the London Academy of Dramatic Art. She has been training and performing voiceovers since 2001, and can be heard in video games, animation, commercials, and corporate videos, as well as on award-winning audiobooks.
Praise For Call the Midwife: A Memoir of Birth, Joy, and Hard Times…
"Emulating James Herriot—except with fewer cows and more cockneys—Worth sketches a warm, amiable portrait of hands-on medical practice. . . . A charming tale of deliveries and deliverance."
—Kirkus Reviews
"Nicola Barber uses a rich Cockney accent to deliver an insightful portrayal of Jennifer Worth's memoir of nursing and midwifery in the East End of London in the 1950s. . . . A rare and moving listening experience."
—AudioFile
"[Narrator] Barber is brilliant. She slips into every accent effortlessly, and her Cockney accent is particularly charming. She carries the weight of the stories with ease and affection, and embodies the characters beautifully. "
—Literary Hoarders
"Narrator Nicola Barber . . . does an excellent job of portraying both seasoned and inexperienced midwives as well as the wide variety of British accents. Fans of the BBC series will enjoy this audiobook, as will anyone interested in the history of midwifery."
—Library Journal