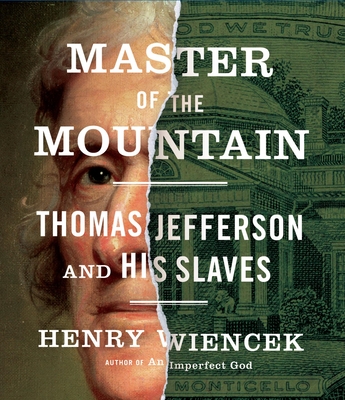 Master of the Mountain
Thomas Jefferson and His Slaves
CD-Audio

* Individual store prices may vary.
Other Editions of This Title:
Digital Audiobook (10/15/2012)
Paperback (9/3/2013)
Hardcover (10/16/2012)
Description
Is there anything new to say about Thomas Jefferson and slavery? The answer is a resounding yes. Henry Wiencek's eloquent, persuasive book—based on new information coming from archaeological work at Monticello and on hitherto overlooked or disregarded evidence in Jefferson's papers—opens up a huge, poorly understood dimension of Jefferson's world. We must, Wiencek suggests, follow the money.
 
So far historians have offered only easy irony or paradox to explain this extraordinary Founding Father who was an emancipationist in his youth and then recoiled from his own inspiring rhetoric and equivocated about slavery, who enjoyed his renown as a revolutionary leader yet kept some of his own children as slaves. But Wiencek's Jefferson is a man of business and public affairs who makes a success of his debt-ridden plantation thanks to what he calls the "silent profits" gained from his slaves—and thanks to a skewed moral universe that he and thousands of others readily inhabited.
 
Many people of Jefferson's time saw a catastrophe coming and tried to stop it, but not Jefferson. The pursuit of happiness had been badly distorted, and an oligarchy was getting very rich. Is this the quintessential American story?
Praise For Master of the Mountain: Thomas Jefferson and His Slaves…
"This meticulous account indicts not only Jefferson but modern apologists who wish to retain him as a moral standard of liberty. Wiencek's vivid, detailed history casts a new slant on a complex man."
—Publishers Weekly [HC starred review]
"Well-rendered yet deeply unsettling. . . . Wiencek scours the primary sources . . . for a thoughtful reexamination of what was really going on behind the harmonious façade of the great house on the mountain. . . . Beautifully constructed reflections and careful sifting of Jefferson's thoughts and deeds."
—Kirkus Reviews [HC starred review]
"Wiencek brilliantly and comprehensively re-evaluates the revolutionary-turned-slave-owner's reputation, questioning why America holds Jefferson as a pillar in its moral composition. Jefferson did not heed the requests of his peers to free his slaves, and, now—two centuries later—he is exposed as a beneficiary of America's selective historical memory. "
      —Milwaukee Express
"Wiencek's method—to present the facts . . . allowing the reader to form her own interpretation before he presents his—makes for a far more persuasive and devastating indictment. Every American should read it."
—Salon
"Remarkable re-creation of Monticello's economy and culture. . . . Whether you agree or disagree with Wiencek's provocative analysis, it's a book worth taking seriously as we continue to stuggle with slavery's legacy."
—BookPage
"Narrator Brian Holsopple has a deep, distinctive voice that captures our attention and is easy to listen to. He has terrific diction and paces the story well, enabling us to follow the account while allowing us time to analyze what we've heard."
—AudioFile
"Clearly delivered and [Holsopple's] reading of the text was free of insinuation, even when Jefferson's hypocrisy was at its most obvious. [Holsopple] played it straight and let the text speak for itself, which should be the goal of every reader of histories. . . . I highly recommend it."
—DWD's Reviews
"Narrator Brian Holsopple does an excellent job. This audiobook provides a troubling aspect of a complex man and the skewed moral universe in which he lived; recommended to all listeners."
—Library Journal
HighBridge Company, 9781611749892, 660pp.
Publication Date: October 16, 2012
About the Author
After working in the radio/production field for fifteen years, BRIAN HOLSOPPLE has been a full-time voiceover artist for well over a decade. In addition to audiobooks, he has done work for The Discovery Channel, the FBI, the US Army, and others. He is the voice of Thomas Jefferson in the official Park Service program at the Mount Rushmore National Monument.
HENRY WIENCEK, a nationally prominent historian and writer, is the author of several books, including The Hairstons: An American Family in Black and White, which won the National Book Critics Circle Award, and An Imperfect God. He lives with his wife in Charlottesville, Virginia.