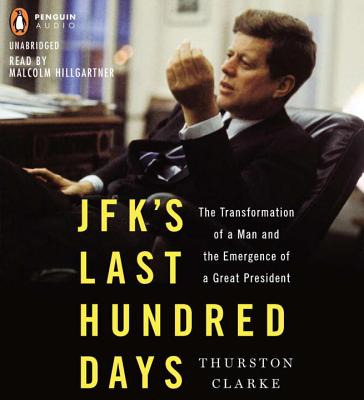 JFK's Last Hundred Days
The Transformation of a Man and the Emergence of a Great President
Compact Disc

* Individual store prices may vary.
Other Editions of This Title:
Digital Audiobook (7/15/2013)
Paperback (7/29/2014)
Hardcover (7/16/2013)
Description
A revelatory, minute-by-minute account of JFK's last hundred days that asks what might have been
Fifty years after his death, President John F. Kennedy's legend endures. Noted author and historian Thurston Clarke argues that the heart of that legend is what might have been. As we approach the anniversary of Kennedy's assassination, JFK's Last Hundred Days reexamines the last months of the president's life to show a man in the midst of great change, finally on the cusp of making good on his extraordinary promise.
Kennedy's last hundred days began just after the death of two-day-old Patrick Kennedy, and during this time, the president made strides in the Cold War, civil rights, Vietnam, and his personal life. While Jackie was recuperating, the premature infant and his father were flown to Boston for Patrick's treatment. Kennedy was holding his son's hand when Patrick died on August 9, 1963. The loss of his son convinced Kennedy to work harder as a husband and father, and there is ample evidence that he suspended his notorious philandering during these last months of his life.
Also in these months Kennedy finally came to view civil rights as a moral as well as a political issue, and after the March on Washington, he appreciated the power of Reverend Martin Luther King, Jr., for the first time.
Though he is often depicted as a devout cold warrior, Kennedy pushed through his proudest legislative achievement in this period, the Limited Test Ban Treaty. This success, combined with his warming relations with Nikita Khrushchev in the wake of the Cuban missile crisis, led to a detente that British foreign secretary Sir Alec Douglas- Home hailed as the beginning of the end of the Cold War.
Throughout his presidency, Kennedy challenged demands from his advisers and the Pentagon to escalate America's involvement in Vietnam. Kennedy began a reappraisal in the last hundred days that would have led to the withdrawal of all sixteen thousand U.S. military
advisers by 1965.
JFK's Last Hundred Days is a gripping account that weaves together Kennedy's public and private lives, explains why the grief following his assassination has endured so long, and solves the most tantalizing Kennedy mystery of all not killed him but who he was when he was killed, and where he would have led us.
Praise For JFK's Last Hundred Days: The Transformation of a Man and the Emergence of a Great President…
Christian Science Monitor's 10 Best Books of July
An Amazon Best History Pick July 2013
A Daily Beast "Brainy Beach Read"
An Apple iBooks Best Book of August

Michicko Kakutani, New York Times:
" . . . [a] vivid portrait of Kennedy as an immensely complex human being: by turns detached and charismatic, a hard-nosed pol and a closet romantic, cautious in his decision making but reckless in his womanizing."

The Wall Street Journal:
"JFK's Last Hundred Days is a superb piece of writing—richly detailed and, considering that the end is all too well known, surprisingly enthralling."   Associated Press: "Thurston Clarke's JFK's Last Hundred Days manages to surprise and…to delight."
Daily Beast:
"A real page-turner… makes for a great and stimulating vacation read… deftly weav[es] together the private, personal, and intimate with the public, the political, and the-then-secret public and political, makes one want to keep reading to find out even more of the scoop."

Washington Post:
"Clarke does an interesting and in many ways persuasive job of what he proposes at the beginning: 'to view John F. Kennedy through every prism and search through all his compartments during the crucial last hundred days of his life—days that saw him finally beginning to realize his potential as a man and a president—in order to solve the most tantalizing mystery of all: not who killed him, but who he was when he was killed, and where he would have led us.'"

"Mr. Clarke is a good storyteller…[He] offers an enjoyable snapshot of the day-to-day workings of the presidency."
—The Economist 

Christian Science Monitor:
"[A] compelling portrait of one of the towering figures of 20th-cnetury America."

Financial Times:
"There will be few, if any, contributions more entertaining and informative than Thurston Clarke's comprehensive chronological telling of his last 100 days in office."

Dallas Morning News:
"A gracefully written, fresh look at the oft-told story."

Daily Mail:
"Thurston Clarke has written a superb book."

Booklist: 
"A fascinating analysis of what was… and what might have been."

Kirkus Reviews (starred):
"Certainly demonstrates that three often painful years in office had taught Kennedy valuable lessons… Clarke delivers a thoroughly delightful portrait."

Library Journal:
"A graceful, bittersweet chronicle… Clarke clearly admires Kennedy but does not ignore his flaws… an absorbing narrative."

Publishers Weekly
"Camelot devotees will relish insider details, from descriptions of an obviously depressed Vice President Johnson 'growling at anyone who disturbed him' to dismissive jabs at Sen. Barry Goldwater taken from the president's official diary."

Jon Meacham, New York Times bestselling author of Thomas Jefferson: The Art of Power:
"Thurston Clarke has done the seemingly impossible: he has found a revealing new angle of vision on John F. Kennedy that brings the president and his times back to vivid life. This is excellent narrative history."
 
Strobe Talbott, President, Brookings Institution:
"Clarke makes the drama, the excitement, and the dark side of Camelot seem like only yesterday—indeed, you feel as though you're right there, in the Kennedy White House, at Hyannis Port, and aboard Air Force One with JFK, today."
 
Bob Herbert, Distinguished Senior Fellow at Demos and former Op-Ed Columnist for the New York Times:
"A fascinating, close-up look at the final dramatic months of a young president's life. Thurston Clarke's portrait of Kennedy is masterful in this compelling convergence of history and biography."
 
Douglas Brinkley, New York Times bestselling author of Cronkite:
"The three-months before President John F. Kennedy was shot in Dallas were frenetic times: civil rights, Vietnam, Berlin and reelection were on his mind. Thurston Clarke's JFK's Last Hundred Days does a marvelous job of reliving Camelot's fragile promise. Clarke is a masterful storyteller and able researcher. This book sings. Highly recommended."

People 
"The noted historian makes the case that JFK, who had just lost his infant son, was on the verge of vast achievement before his assassination."
Penguin Audiobooks, 9781611761719, 12pp.
Publication Date: July 16, 2013
About the Author
Thurston Clarke has written eleven widely acclaimed works of fiction and nonfiction, including three "New York Times" Notable Books. His "Pearl Harbor Ghosts" was the basis of a CBS documentary, and his bestselling "Lost Hero," a biography of Raoul Wallenberg, was made into an award-winning NBC miniseries. His articles have appeared in "Vanity Fair, The New York Times, The Washington Post," and many other publications. He is the recipient of a Guggenheim Fellowship and other awards and lives with his wife and three daughters in upstate New York.
or
Not Currently Available for Direct Purchase