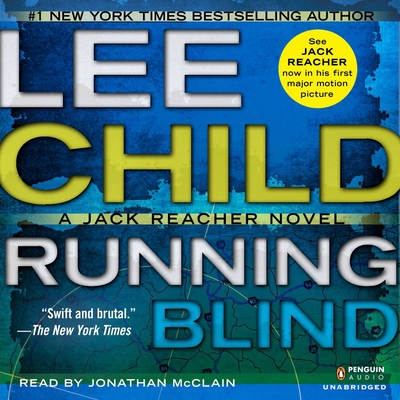 Running Blind (Jack Reacher #4)
CD-Audio

* Individual store prices may vary.
Other Editions of This Title:
Digital Audiobook (10/29/2012)
Paperback (8/28/2007)
Prebound (9/1/2007)
Paperback (2/5/2013)
Hardcover, Large Print (1/19/2011)
Compact Disc (11/1/2007)
Paperback (9/6/2005)
MP3 CD (11/1/2004)
Compact Disc (11/1/2007)
Mass Market Paperback (7/1/2001)
Description
Across the country women are being murdered by a killer who leaves no evidence, no wounds, no signs of struggle, and no clues to a motive. They are perfect crimes. In fact, only one thing links each victim: they all knew Jack Reacher.
Praise For Running Blind (Jack Reacher #4)…
"Swift and brutal."—The New York Times

"Reacher is one of the more interesting suspense heroes to come along in a while."—San Antonio Express News

"A superior series."—The Washington Post Book World

"A great read."—St. Petersburg Times

"Spectacular...muscular, energetic prose and pell-mell pacing."—The Seattle Times

"Jack Reacher, the wandering folk hero of Child's superb line of thrillers faces a baffling puzzle in his latest adventure…a brain-teasing puzzle that gets put together piece by fascinating piece...and a central character with Robin Hood-like integrity and an engagingly eccentric approach to life."—Publishers Weekly

"Deeply satisfying...plan to stay up long past bedtime and do some serious hyperventilating toward the end."—Kirkus Reviews

"This fourth Reacher thriller is easily the best. The plot is a masterpiece. Reacher belongs at the same table with…Parker's Spenser."—Booklist

"With numerous plot twists and turns, Child puts Reacher through his paces brilliantly, arriving at an unusual solution. Highly recommended."—Library Journal
Penguin Audio, 9781611761948
Publication Date: March 7, 2013
About the Author
Lee Child was born in Coventry, England, in 1954, early enough to remember playing on left-over World War II bomb rubble, late enough to be young and impressionable through the Sixties. He went to law school, but took a job in commercial television.
"I always loved entertainment," he says. "At elementary school, I was always in the school plays. As a teenager, I worked in shoestring theaters and arts centers. I took vacation jobs anywhere there was a stage and an audience. I never intended to practice law. I did the degree because it was an interesting subject."
He joined Granada Television in Manchester, England, thinking the job would last a few months. He ended up staying nearly twenty years. He was there through the great era of British television drama, working on flagship shows like Brideshead Revisited, Jewel in the Crown, Prime Suspect, and Cracker.
"That was a wonderful, wonderful job," he says. "But eventually, twenty years is enough for anybody. And television is teamwork—I felt I wanted to get away from that and get closer to the audience, personally."
So he made the decision to become a novelist. "I figured the novel is the purest form of entertainment, and certainly the closest I'd ever get to an audience...after all, a writer is literally one-on-one with the reader for hours and hours at a time."
But why would an Englishman write for America?
"Two important reasons," he says. "First, I've always been in love with the States. And second, one thing I learned over the years in television is you go where the audience is. And where's the biggest, most literate and most sophisticated audience for modern fiction? In the U.S., without a doubt. It's what I call the basketball theory. If I wanted to be a basketball player, I'd always be second-best if I stayed in Europe. I would need to go to the NBA in America to find out if I were any good. It's the same with fiction. You find the most demanding readers and you write for them."
Married to a New Yorker, Child had a head start. He knows America well, from years of visiting. And so far, he's doing fine. His novels Echo Burning, Running Blind, Killing Floor, Die Trying, Tripwire and Without Fail won awards and rave reviews coast to coast, from The New York Times to People. But best of all, the freedom to work wherever he wants means he's now realized a dream he cherished since childhood.
"It's one of my earliest memories," he says. "Imagine provincial England at the end of the Fifties. I was about four, and I went to the public library with my mother. There was a series of kids' books called My Home In... and the only one our library had was My Home In America. There were twelve pages, each with a big color illustration of a home ... there was a prairie farmhouse, a Californian bungalow, a New England Colonial ... and my favorite, a Manhattan apartment with a little boy sitting by the window, looking down at the city below. Right away, I knew I wanted to be that boy..."
Now he is that boy. After years of dreaming, he moved to the U.S. in the summer of 1998. "Writing has brought me a lot of rewards. But this is the best of all of them."
or
Not Currently Available for Direct Purchase