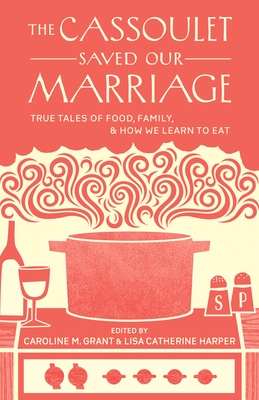 The Cassoulet Saved Our Marriage (Paperback)
True Tales of Food, Family, and How We Learn to Eat
Roost Books, 9781611800142, 256pp.
Publication Date: March 12, 2013
* Individual store prices may vary.
Description
Without mantras or manifestos, 29 writers serve up sharp, sweet, and candid memories; salty irreverence; and delicious original recipes.  Food is so much more than what we eat. The Cassoulet Saved Our Marriage is an anthology of original essays about how we learn (and relearn) to eat, and how pivotal food is beyond the table. 

With essays from:

   • Keith Blanchard
   • Max Brooks
   • Melissa Clark
   • Elizabeth Crane
   • Aleksandra Crapanzano
   • Gregory Dicum
   • Elrena Evans
   • Jeff Gordinier
   • Caroline M. Grant
   • Phyllis Grant
   • Libby Gruner
   • Lisa Catherine Harper
   • Deborah Copaken Kogan and Paul Kogan
   • Jen Larsen
   • Edward Lewine
   • Chris Malcomb
   • Lisa McNamara
   • Dani Klein Modisett
   • Catherine Newman
   • Thomas Peele
   • Deesha Philyaw
   • Neal Pollack
   • Barbara Rushkoff
   • Bethany Saltman
   • K. G. Schneider
   • Sarah Shey
   • Stacie Stukin
   • Karen Valby
About the Author
Lisa Catherine Harper is the author of the award-winning memoir A Double Life: Discovering Motherhood (Bison Books/University of Nebraska, 2011). Her writing has appeared in the Huffington Post; Babble; the San Francisco Chronicle; Glimmer Train; Gastronomica; Mama, PhD; Educating Tastes; and on PoetryFoundation.org. She has taught widely in the San Francisco Bay Area, most recently in the MFA program at the University of San Francisco. You can find her online at www.LisaCatherineHarper.com.

Caroline M. Grant is Editor-in-Chief of the online journal Literary Mama and Associate Director of The Sustainable Arts Foundation. She is also coeditor of the anthology Mama, PhD: Women Write About Motherhood and Academic Life (Rutgers University Press, 2008). She has taught at UC Berkeley, Stanford University, and the San Francisco Art Institute, and her essays have been published in a variety of journals and anthologies. She lives in San Francisco with her husband and two sons. For more information, visit her website, carolinemgrant.com.
Praise For The Cassoulet Saved Our Marriage: True Tales of Food, Family, and How We Learn to Eat…
"A fantastic collection that is as much about relationships as it is about the food that bonds us. You will never look at your family dinner in the same way again."—Wylie Dufresne, chef and owner of Manhattan's wd~50 and Alder

"The Cassoulet Saved Our Marriage is a delightful collection of essays that help define the importance of food in our lives. This book made me hungry for good meals and good people. I dare you to read this book and not start planning a dinner party."—Anne Zimmerman, author of An Extravagant Hunger: The Passionate Years of M.F.K. Fisher

"I think Caroline Grant and Lisa Harper are on to something with this collection, something left out of polemics about how to eat and the faddish coverage of food in much of the media: that everyone's understanding of food and flavor and of how to feed themselves is a deeply personal set of preferences and prejudices, forged over years and tempered by the parts of our lives spent away from the table as much as those at it. The Cassoulet Saved Our Marriage brings together a talented and diverse group of writers, and through their appealingly wide-ranging essays, each shares stories—emotional, funny, revealing—about their relationship to food and the way food shapes their relationship to the world. These stories aren't just about what we eat, but also about how those choices help us understand who we are."—Peter Meehan, editor, Lucky Peach

"Wildly diverse voices with two things on common: a love of good food, and a love of family, even if both of those loves sometimes show themselves in unexpected ways. It's as hard to stop at one essay as it is to stop at one French fry, and each one will have you thinking about how you feed, and are fed by, the ones you love."—KJ Dell'Antonia, lead writer and editor of the Motherlode blog at the New York Times 

"M. F. K. Fisher wrote that one of the best feelings she'd experienced was to know that she had 'nourished my beloved few,' sustaining them 'against the hungers of the world.' Like Fisher, the writers gathered in The Cassoulet Saved Our Marriage understand how complex it can be to satisfy (even to recognize) those hungers, and how food, as one contributor says, 'is not an end to itself. It's a beginning, a starting place.' These thoughtful, wide-ranging essays reveal our relationship to food—at once primal and intimately idiosyncratic—as inextricable from our appetite for connection: to our pasts, to our futures, to what we hope for and what we've lost. Noting that the seasonal produce at the farmer's market where she shops weekly for her family is 'as constant and changeable as my children,' another contributor realizes, 'In a small but important way, that bag of pluots or pile of arugula says pay attention.' This collection does, with honesty, humor, and gusto."—Kate Moses, author of Cakewalk: A Memoir

"A refreshing, fun, and yummy feast of food stories! I love the diversity of tales Grant and Harper packed into this cassoulet-of-a-book and look forward to trying my hand at the many recipes that will surely motivate new experiences in our family's kitchen and around the table. I find myself too often steeped in the 'oughts' of food behavior, and not in the food memories that enrich our lives, and this collection broadened my horizons."—Jered Lawson, Executive Director, Pie Ranch

"The Cassoulet Saved Our Marriage takes dining away from the celebrity aesthete foodies currently infesting America's restaurants and returns it to the family table where it can be celebrated for its delightfully neurotic origins and near-obsessive manifestations."—Douglas Rushkoff, author of Get Back in the Box

"On the menu of The Cassoulet Saved Our Marriage: 'crisp, creamy, coppery' oysters, lobster cooked in sea water, a blueberry muffin pulled hot from a paper bag at 6 a.m. These dishes are offered to us in restaurants, by the beach, at a Brooklyn construction site. These writers are mothers, dads, lovers, and grown-up children I wish I could feast with."—Betsy Block, author of The Dinner Diaries: Raising Whole Wheat Kids in a White Bread World
or
Not Currently Available for Direct Purchase