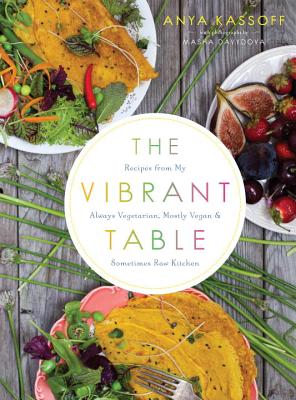 The Vibrant Table (Hardcover)
Recipes from My Always Vegetarian, Mostly Vegan, and Sometimes Raw Kitchen
Roost Books, 9781611800975, 331pp.
Publication Date: June 10, 2014
Other Editions of This Title:
Paperback (9/29/2015)
* Individual store prices may vary.
Description
The Vibrant Table is a feast for the senses. From small sides to savory meals and sweet indulgences, each nourishing recipe tells a story of a balanced and well-fed lifestyle, centered around the family table. Amaranth Pumpkin Porridge, Fingerling Potato Pizza, Squash Blossom Quiche, Roasted Plum Ice Cream, Swirled Acai Cheesecake--you will never run out of inspiration for enjoying whole foods at any meal. Anya Kassoff's bustling kitchen is always vegetarian, mostly vegan, gluten-free, and sometimes raw--a place where desserts can serve as an energizing breakfast too The 100+ recipes here include fresh interpretations of familiar classics and plenty of ideas for the curious cook. With guidance on sprouting, grinding your own flours, making nut milks, and even preparing raw chocolate, building a well-stocked pantry has never been easier. A chapter dedicated to cooking with kids is full of tips and recipes for raising adventurous eaters. Anya's devotion to preparing fresh and seasonal ingredients with love is clear. The Vibrant Table is a delicious homage to lightness and elegance at home.
About the Author
Born and raised in Russia, ANYA KASSOFF is a passionate cook and successful food blogger who uses her multicultural background for inspiration in the kitchen and when entertaining. In her adopted home of Florida, she finds endless ways to experiment with abundant local produce to recreate raw/vegan versions of familiar dishes from her childhood, inventing new family "classics" along the way. Her blog, Golubka Kitchen, is a finalist in Saveur's 2014 Best Food Blog awards, in the Special Diets category.
Praise For The Vibrant Table: Recipes from My Always Vegetarian, Mostly Vegan, and Sometimes Raw Kitchen…
"The Vibrant Table is just that: a book full of colors, healthy ingredients like chia seeds, almond milk, and Rainier cherries, and a life of food lived well. I loved reading Anya Kassoff's story of growing up in the Soviet Union, where food was scarce, to creating foods today intended to heal and nourish. This is a lovely book." —Shauna Ahern, author of Gluten-Free Girl and the Chef

"It's clear from Anya's cooking that she is passionate about a clean and wholesome diet. The Vibrant Table is a comprehensive and inspired look into the enthusiasm and creativity she has for feeding people well.  I am certain this book will encourage many cooks and eaters to explore the myriad and delicious options for clean eating."—Sara Forte, author of the blog and cookbook Sprouted Kitchen

"For years we have been impressed by Anya's endless creativity and playful healthy recipes with only natural ingredients. The Vibrant Table is truly a vibrant cookbook filled with so many beautiful and unique recipes, packed with colorful photos, and personal stories from their Russian background. This is an outstandingly original and inspiring cookbook. Anyone with kids will have lots of fun cooking together with them from the 'Playtime' chapter."—David Frenkiel and Luise Vindahl, authors of Vegetarian Everyday and the Green Kitchen Stories blog

"The Vibrant Table is a more than just a collection of recipes—it's a comprehensive guide to feeding yourself and loved ones delicious, whole-food meals with ease and with soul.  In the mouthwatering mix of made-over classics to totally new combinations of tastes and textures, Anya's passion for balanced, seasonal fare comes through in every dazzling dish!  Her creative kitchen spirit is sure to inspire everyone from the culinary novice to the veteran health foodie to create fresh, healthy food for the entire family."—Sarah Britton, CNP, author of the blog My New Roots (mynewroots.org)

"Anya Kassoff's The Vibrant Table is one of those books you'll want two copies of, one to use in the kitchen for the masterful recipes, and one to put on your coffee table as a work of art. The photography is stunning and vibrant—what better way to be inspired to make the recipes yourself? The beauty and purity of the ingredients along with the heart and soul of the author may very well change the way you look at food."—Sarma Melngailis, founder of One Lucky Duck and author of Living Raw Food
or
Not Currently Available for Direct Purchase