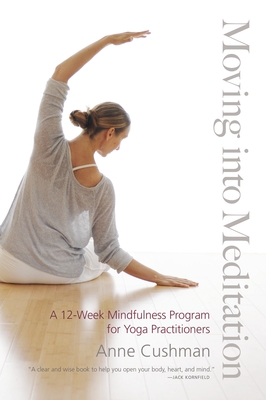 Moving into Meditation (Paperback)
A 12-Week Mindfulness Program for Yoga Practitioners
Shambhala, 9781611800982, 288pp.
Publication Date: July 8, 2014
* Individual store prices may vary.
Description
Moving into Meditation is a practical and inspiring guide to integrating mindful yoga and embodied meditation, in a 12-week format.

One week at a time, Moving into Meditation lays out a plan for exploring body-based practices to get you more in tune with not only your limbs and core but your mind and heart. Cushman's curriculum integrates asana with mindfulness meditation to help practitioners turn "embodiment" from a concept into a tangible reality. Her insightful mixture of practices, yoga history, and Buddhist philosophy are made relevant to your present-day life. Personal stories from the "trenches" of decades of practice and teaching add color; Cushman's characteristic poetic and funny voice makes all readers feel that much more human. Cushman believes--and experience proves--that by becoming better attuned to and acquainted with the body, the physical forms become a vehicle for becoming more intimate with yourself and your world. From there, we can explore and embody the teachings of the Buddha for a more awakened life.

In recent years, "mindfulness" has blasted into mainstream culture much as yoga did two decades ago, making "mindful yoga" an appealing trend. But how does mindful yoga evolve from a buzz-worthy concept to a lived experience? How do yoga asanas and pranayama support and express the practice of meditation? How do you explore the teachings of the Buddha through the vehicle of your own living, breathing, human body?

As we quickly learn, the practices are inherently entwined. Experienced yoga and meditation teacher Anne Cushman answers all these questions and more in Moving into Meditation, teaching us to deepen our asana practices with mindfulness meditation and enhance our meditation practice with asana. With compassion, humor, and deep intelligence, Moving into Meditation guides us through integrating mind, body, and spirit practices for a wide-awake life.
About the Author
ANNE CUSHMAN has been practicing Buddhist meditation since 1983 and yoga since 1986 and teaching their integrated practice since 1997. Her essays on the intersection of spiritual practice with daily life have been widely published, appearing in the New York Times, O: The Oprah Magazine, Yoga Journal, Tricycle, and the Shambhala Sun. A former editor at both Yoga Journal and Tricycle, she has presented at and directed multiple conferences at Kripalu, including "Yoga and Buddhism" and "The Yoga of Parenting." Since 2000 she has taught yoga and meditation on over fifty retreats at Spirit Rock Meditation Center, where she is the codirector of the Mindfulness Yoga and Meditation Training Program.
Praise For Moving into Meditation: A 12-Week Mindfulness Program for Yoga Practitioners…
"A clear and wise book to help you open your body, heart, and mind. Anne invites you to integrate yoga, meditation, and love into a seamless whole."—Jack Kornfield
 
"What does yoga have to do with mindfulness, and how might we bring the two together? How can mind training affect how we feel and help us disidentify from habits that cause us so much self-inflicted suffering? In Moving into Meditation, Anne has gifted us with a comprehensive yet concise blend of the vast wisdom traditions of yoga and Buddhism, offering not only weekly doses of essential methods for transformation but also stirring stories that highlight each practice. This book has everything anyone would need to inhabit an integrated, heart-centered practice and will be of immense benefit to yoga enthusiasts and meditators alike. I cannot recommend it enough."—Sarah Powers, author of Insight Yoga
 
"For all those meditators who feel the lack of embodied presence and those yoga practitioners who yearn for more awareness and lucidity, this book offers the solution. Anne Cushman draws on her own journey into the heart of these two traditions and guides us with evocative writing and powerful yet accessible teachings and practices. In Moving into Meditation you'll find a wonderfully crafted program that will bring you deeply into your own spiritual journey."—Tara Brach, PhD, author of Radical Acceptance and True Refuge
 
"With a light touch and her characteristic humor, Anne draws us into her own life story as she leads us into mindful exercises with simple clarity and kindness. There is never a dull sentence! In Moving into Meditation there is no rigidity or expectation—as is so often experienced in public classes—but rather the sense of time, space, freedom, and encouragement to explore your own needs. She is not offering a well-trodden path; she is drawing from her own life and practice, where yoga and meditation flow together into the same river of awareness. This is a book of valuable guidelines that will provide inspiration and encouragement to even the most seasoned practitioner of yoga and meditation."—Angela Farmer, yoga pioneer and creator of The Feminine Unfolding, Inner Body Flow, and other videos

"Gently humorous, deeply insightful, and always practical, Anne Cushman helps us go straight to the heart of our own basic goodness amid the messiness of our everyday lives. I can't wait to share Anne's insight with the women I teach. Her willingness to share her own life journey will give us all the confidence we need to come home to ourselves in a loving, nonjudgmental way."—Linda Sparrowe, author of The Woman's Book of Yoga and Health

"Anne Cushman's Moving into Meditation is more than a book. It is an entire program for cultivating a mindful relationship with the body. In the Four Foundations of Mindfulness teaching, the Buddha says to begin with awareness of the body. Anne's book provides a pathway for establishing a body-based meditation practice that is in accordance with this instruction. Very specific and well organized, this book allows you to establish a mindful yoga practice at your own pace. For those who struggle with body challenges, it offers specific heart meditation practices to bring about change in how you relate to your body. The amount of detailed information in this book makes it a reference within itself."—Phillip Moffitt, author of Dancing with Life and Emotional Chaos to Clarity
 
"Anne Cushman's new book is a rich meal indeed. Cushman is one of the most talented writers in the contemplative world today. Her prose is elegant and engaging, vibrating with intelligent life force. But beyond that, she has digested the histories of the yoga and Buddhist traditions so fully that she is able to make a stunning and seamless integration of the two—and to give us an unparalleled explication of why, indeed, they are not two traditions, but one. As if that were not enough, she weaves all of this together into a practical, useful, inspiring, accurate, and comprehensive twelve-week program of study and practice. Wow! This book should soon be on the shelf of every meditator and yogi who aspires to a full embrace of practice and of life."—Stephen Cope, author of Yoga and the Quest for the True Self