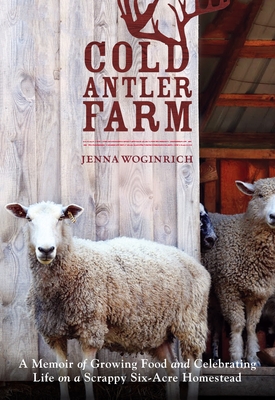 Cold Antler Farm
A Memoir of Growing Food and Celebrating Life on a Scrappy Six-Acre Homestead
Paperback

* Individual store prices may vary.
Description
Farm City meets The Omnivore's Dilemma in Cold Antler Farm, a collection of essays on raising food on a small homestead , while honoring the natural cycle of the "lost" holidays of the agricultural calendar.

Author Jenna Woginrich is mistress of her one-woman farm and is well known for her essays on the mud and mess, the beautiful and tragic, the grime and passion that accompany homesteading. In Cold Antler Farm, her fifth book, she draws our attention to the flow and cycle not of the calendar year, but of the ancient agricultural year: holidays,  celebrations, seasonal touchstones, and astronomical events that mark sacred turning points in the seasons.
     Amidst the "lost" holidays of the equinoxes, May Day, Hallowmas, and Yule, we learn the life stories of her beloved animals and crops--chicken, pig, lamb, apples, basil, tomatoes. May apple blossoms are sweet fruit for rambunctious sheep in June. And come September, the harvest draws together neighbors for cider making under the waning summer sun. The living beings she is tending fuel one another--and the community--day to day, season by season.
     By examining what eating seasonally really means, the "ancient" reclaimed calendar becomes a source of wisdom. How do we set down roots and break new ground in spring? How to best nourish body and soul in the heat of deep summer? And what can we learn by simply paying more attention to weather patterns than to our social network feeds? Cold Antler Farm encourages us to eat and live well with respect to for the natural rhythm of the seasons. In turn we learn what it means to be truly connected, not super-networked.
Praise For Cold Antler Farm: A Memoir of Growing Food and Celebrating Life on a Scrappy Six-Acre Homestead…
"Verdict: Homesteading advice, some recipes, and a good dose of humility make this a most enjoyable read for anyone who is interested in living a life that's more in tune with natural rhythms."—Library Journal

"Few writers can put into words the epiphanies that break upon a mind and spirit communing with a piece of earth. Home, barn, and garden converge in the quietness of agrarian labor to provide transcendent thoughts about living, loving, and learning. Jenna is a master."—Joel Salatin, farmer, Polyface Farm, and author
 
 "In this graceful and touching book, Jenna Woginrich reminds us of humanity's deep connection to season and cycle. This is a book full of humility, inspiration, and the richness of experience inherent to living in harmony with natural forces far beyond our control."—Ben Hewitt, author of The Town That Food Saved

"Jenna Woginrich's life and writing are both marked with a ferocity and passion that are inspiring, disturbing, and mesmerizing all at the same time. This is a powerful memoir of a brave and determined young woman's love affair with a gritty six-acre farm that is every inch her own and her struggles to keep it going."—Jon Katz, author of The Second-Chance Dog: A Love Story

"In Cold Antler Farm, Jenna Woginrich lovingly grabs you by the hand and takes you along for the ride of her life. As the caretaker of a menagerie of lively animals and an antique home riddled with personality, she is the sage observer of seasonal rhythms and the compassionate soul studying, questioning, and learning from it all. This book will ultimately leave you torn: you'll be just as anxious to turn the page and learn what comes next while simultaneously wanting to close the book, put it down, and walk away, so as to draw out the eventual conclusion. It's that good."—Ashley English
Roost Books, 9781611801033, 192pp.
Publication Date: June 10, 2014
About the Author
JENNA WOGINRICH is a thirty-something homesteader and the author of Barnheart, Chick Days, Made from Scratch, and Days of Grace. A Pennsylvania native, she has made her home in the mountains of Tennessee, in northern Idaho, in rural Vermont, and most recently in upstate New York, where she lives with a flock of Scottish Blackface sheep, a border collie-in-training, chickens and geese, a hive of bees, and several amiable rabbits.
or
Not Currently Available for Direct Purchase