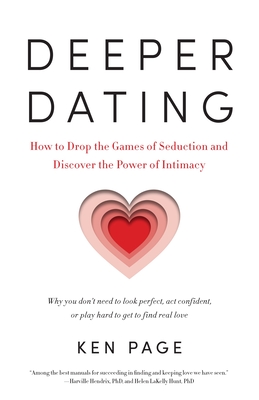 Deeper Dating (Paperback)
How to Drop the Games of Seduction and Discover the Power of Intimacy
Shambhala, 9781611801224, 288pp.
Publication Date: December 30, 2014
Other Editions of This Title:
MP3 CD (11/21/2017)
* Individual store prices may vary.
Description
"Among the best manuals for succeeding in finding and keeping love we have seen."—Harville Hendrix, PhD and Helen LaKelly Hunt, PhD

A program that not only leads to healthy relationships but that also steers us toward our own potential greatness—from well-known psychologist and relationship expert Ken Page.

     Lose weight. Be confident. Keep your partner guessing. At the end of the day, this soulless approach to dating doesn't lead to love, it leads to insecurity and desperation. In Deeper Dating, Ken Page presents a new path to love. Out of his decades of work as a psychotherapist--and out of his own personal struggle to find love--Page teaches that the greatest magnet for real love lies in our "Core Gifts"--the places of our deepest sensitivity, longing, and passion. Deeper Dating guides us to discover our own Core Gifts and then teaches us to extricate these gifts from the wounds that keep them buried, empowering us to express them with courage, generosity, and discrimination in our dating life. When we do this, something miraculous happens: we begin to attract people who love us for who we really are, we become more self-assured and emotionally available, and we lose our taste for relationships that chip away at our self-esteem. Without losing a pound, changing our hairstyle, or buying a single new accessory, we find healthy love moving closer. Deeper Dating integrates the best of human intimacy theory with timeless spiritual truths and translates them into a practical, step-by-step process.
About the Author
KEN PAGE, LCSW, is a psychotherapist and author of the popular Psychology Today blog Finding Love. Ken has led hundreds of workshops on intimacy and spirituality for thousands of participants. He has taught at Columbia University, the Omega Institute, Iona College, Rowe Conference Center, and the Garrison Institute. Ken founded Deeper Dating in 2004 as an event platform in which trained facilitators speak on sexuality, intimacy, and spirituality in the world of dating and then lead participants in a series of fun and enriching exercises. The live events he has led provide an alternative to the bar scene and superficial dating events. They have drawn thousands of men and women of all ages and sexual orientations and have received much media attention.
Praise For Deeper Dating: How to Drop the Games of Seduction and Discover the Power of Intimacy…
"Deeper Dating is counter-intuitive, and it is among the best manuals for succeeding in finding and keeping love we have seen. According to its author, the core attractor for the person best suited for a great love is the part of you with which you may be most uncomfortable: your vulnerability and authenticity. He explicitly votes against a presentational self attempting to make an impression. Not only does he encourage you to leave your defenses at home, he shows you with many illustrations and exercises just how to prepare for the ultimate relationship with someone who is just right for you."—Harville Hendrix, Ph. D. and Helen LaKelly Hunt, Ph. D., authors of  Keeping the Love You Find and Making Marriage Simple

"Deeper Dating is a beautiful journey into deeper intimacy, an inspiring and important guidebook for everyone seeking authentic love."—Judith Orloff, MD, author of The Ecstasy of Surrender

"If you are truly ready for big, heart-opening, lasting romantic love, this workshop-in-a book offers the proven step-by-step process. Highly recommended."—Arielle Ford, author of The Soulmate Secret

"Deeper Dating was a revelation for me. This enlightening book helped me to see the way we go about dating deeply influences the kind of relationship that will emerge. If you desire a soulmate, lead with your soul. So many of us come from that place of looking for that person who 'completes' us, but Ken helped me to see that I desire a partner who 'reflects' the best in me. Show your core gifts of vulnerability and authenticity and you'll find a partner who does the same."—Chip Conley, author of Emotional Equations and Peak

"A unique and brilliant contribution. Chock full of practical wisdom as well as tender care. Highly recommended!"—Edward Hallowell, MD, New York Times bestselling author of Driven to Distraction