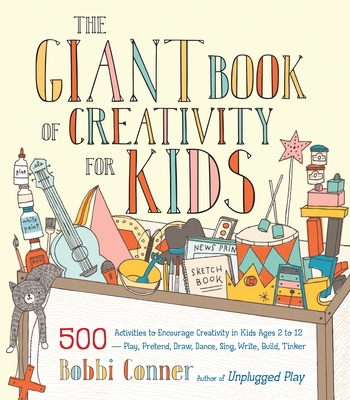 The Giant Book of Creativity for Kids (Paperback)
500 Activities to Encourage Creativity in Kids Ages 2 to 12--Play, Pretend, Draw, Dance, Sing, Write, Build, Tinker
Roost Books, 9781611801316, 400pp.
Publication Date: March 24, 2015
* Individual store prices may vary.
Description
Winner of the 2015 Parent's Choice Award

The perfect starting point for creative play, this is the ultimate book of ideas for arts and crafts, building and tinkering, writing and rhyming, singing and dancing, and more! For parents who don't feel they are creative, this book provides an easy entry point for raising creative kids.

Creativity is an essential ingredient for a happy childhood, and this is the ultimate collection of ideas for arts and crafts, building and tinkering, writing and rhyming, singing and dancing, and more! With 500 unplugged, hands-on activities for children ages two to twelve, this book goes beyond the simple arts and crafts found in most kids' creativity books and offers fun ideas for a generous range of imaginative and creative play—all in one giant book.

You have the power to encourage creativity in your child's daily life, whether you feel creative yourself or not. This book is your guide for being a creativity mentor, your handbook for raising kids rich with creative habits and skills, and your toolbox full of ideas and activities. So say YES to creativity! Encourage your child to dabble in all kinds of activities, and discover the magic and beauty of imagination.
About the Author
BOBBI CONNER is known for creating high-quality child development and parenting resources--radio programs, podcasts, and books. For twenty-four years Conner was the host of the award-winning Parent's Journal nationwide public radio series, broadcast in the US on more than 150 NPR stations and worldwide on the American Forces Radio Network. Now Conner's weekly parenting podcasts are featured online at www.parentsjournal.com. She is the author of Unplugged Play (Workman Publishing, 2007). Conner is a popular parent education speaker, presenting workshops to parents, educators, and professionals across the United States on topics related to childhood creativity, unplugged playtime, and practical parenting. She has a Bachelor of Fine Arts degree and is the mother of three children who were raised with a hefty dose of creativity.
Praise For The Giant Book of Creativity for Kids: 500 Activities to Encourage Creativity in Kids Ages 2 to 12--Play, Pretend, Draw, Dance, Sing, Write, Build, Tinker…
"Parents today need a very special kind of help. They want their children to spend time on things other than technology. But what can they suggest as an altenative? Bobbi Conner's latest book, The Giant Book of Creativity for Kids, provides the answer of what to do instead! It is a parent's perfect go- to guide for ideas that spark creativity and fully engage a child's mind."—Jill Stamm, PhD, author of Bright from the Start

"Don't fret about how children today are spending too much time on electronics and commercially produced toys. Run, don't walk, to get a copy of The Giant Book of Creativity for Kids. It is truly an exceptional resource for turning everyday moments into opportunities for family fun, creativity, and memories that last. The ideas are easily and quickly doable—even for the busiest parents—and are all low to no-cost, but the rewards will be priceless."—Ellen Galinsky, author of Mind in the Making

"Bobbi Conner is sophisticated about developmental, social, cultural, and psychological issues, but she is also just plain fun!"—Mary Pipher, PhD, author of the New York Times best seller Reviving Ophelia

"Bobbi Conner is highly regarded by all of us in the pediatric world committed to providing accurate and useful information to parents."—Laura Jana, MD, media spokesperson for the American Academy of Pediatrics

"Bobbi Conner understands what parents need to know."—Jane Healy, PhD, educational psychologist and author of Your Child's Growing Mind

"A treasure trove of creative ideas, games, songs, and activities for children of all ages."—David Elkind, PhD, author of The Power of Play and Parenting on the Go