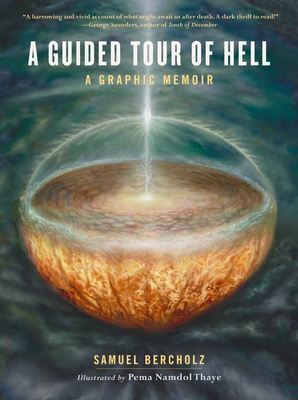 A Guided Tour of Hell
A Graphic Memoir
Hardcover

* Individual store prices may vary.
Other Editions of This Title:
MP3 CD (2/14/2017)
Description
Take a trip through the realms of hell with a man whose temporary visitor's pass gave him a horrifying—and enlightening—preview of its torments.

This true account of Sam Bercholz's near-death experience has more in common with Dante's Inferno than it does with any of the popular feel-good stories of what happens when we die. In the aftermath of heart surgery, Sam, a longtime Buddhist practitioner and teacher, is surprised to find himself in the lowest realms of karmic rebirth, where he is sent to gain insight into human suffering. Under the guidance of a luminous being, Sam's encounters with a series of hell-beings trapped in repetitious rounds of misery and delusion reveal to him how an individual's own habits of fiery hatred and icy disdain, of grasping desire and nihilistic ennui, are the source of horrific agonies that pound consciousness for seemingly endless cycles of time. Comforted by the compassion of a winged goddess and sustained by the kindness of his Buddhist teachers, Sam eventually emerges from his ordeal with renewed faith that even the worst hell contains the seed of wakefulness. His story is offered, along with the modernist illustrations of a master of Tibetan sacred arts, in order to share what can be learned about awakening from our own self-created hells and helping others to find relief and liberation from theirs.
Praise For A Guided Tour of Hell: A Graphic Memoir…
"Sam Bercholz, one of the most genuine and heartful teachers of dharma I've ever had the pleasure of knowing, has written a harrowing and vivid account of what might await us after death.  A dark thrill to read, it is also a generous gift, reminding us that what we do here matters urgently."—George Saunders

"An apocalyptic guided tour through the infernal Buddhist hells realms revealed during a near-death experience. A courageous and subjective account, resonant with Buddhist doctrine, that veers far from the heavenly realms of much modern NDE literature. Sam Bercholz's narrative is vividly illustrated by Pema Namdol's brilliant artwork."—Robert Beer, author of The Encyclopedia of Tibetan Symbols and Motifs

"This book is an astonishingly generous offering: a tour of hell, guided with love. This is not a pacifying love. Rather, it is a love that destroys illusion to leave the reader in a state of discomfiting wakefulness. If you seek a deeply refined and discerning spiritual view that will compel you to journey beyond conventional thought, never to return, this book is for you."—Susan Piver, author of Start Here Now

 "A Guided Tour of Hell graphically illustrates the naked consequences of the destructive side of our attitudes and actions. Buddhism says, when our mind is released from this physical setup, we could enjoy a heavenly world of peace and light, or suffer in a hellish world of darkness and pain. No one else creates these worlds for us. They are the reflections of our own past mental habits. Thank you, Sam, for returning with these mesmerizing descriptions of what you witnessed on the other side. I hope that they will make us mindful to become better people."—Tulku Thondup Rinpoche, author of The Healing Power of Mind and Boundless Healing

"A fascinating and deeply thought-provoking testimony, powerfully illustrated. A must-read for anyone who wonders what might happen at the time of death, or for most of us who wonder what might happen." —Matthieu Ricard, author of Happiness
Shambhala, 9781611801422, 160pp.
Publication Date: December 6, 2016
About the Author
SAMUEL BERCHOLZ is the founder of Shambhala Publications. He has taught Buddhist philosophy and meditation practice throughout North America, Europe, and Australasia for more than forty years.

PEMA NAMDOL THAYE, commonly known as Pema Namdol, is a master Tibetan artist who has garnered international acclaim as a painter, sculptor, 3D mandala specialist, traditional Tibetan architect, author, and art educator.
or
Not Currently Available for Direct Purchase