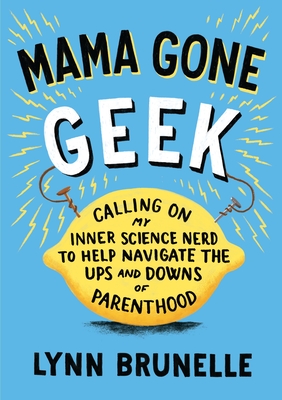 Mama Gone Geek
Calling On My Inner Science Nerd to Help Navigate the Ups and Downs of Parenthood
Paperback

* Individual store prices may vary.
Description
How do you connect the artsy, science-nerd mom to the art and science of parenting? Lynn Brunelle shares her field trip through pregnancy and parenting, sprinkled with a sparkle of science, in this hilarious and awe-inspiring memoir.

     With great enthusiasm, Lynn shows how she shares her inner geek--the part of her that is gleefully curious and wide-eyed with wonderment--with her children. For Lynn, science is the stardust that makes common things glow. Why not pass that magic along to the kids? When Lynn brought her passion for science into her parenting, it began to make all the difference to her and her kids. Her heart lifts when her boys are elbow-deep in mud searching for crystals and when she catches them debating whether a chicken is related to a dinosaur. Science isn't just for geeks. It's the future. If you're a parent or planning to become one, it's your future.
Praise For Mama Gone Geek: Calling On My Inner Science Nerd to Help Navigate the Ups and Downs of Parenthood…
"The book takes readers on an exuberant journey that combines maternal highs and lows with the joys of being a born science "nerd." Brunelle recreates the magic of everyday family life with a scientist's keen eye for detail and a parent's faultless ear for mother-son dialogue."—Publishers Weekly

"Lynn loves being a mom, and she loves science. She relays tale after tale of how she engages her kids in wonder after wonder of the world around them—and around all of us. Her science enriches their lives and saves her sanity. Mama Gone Geek will do the same for you."—Bill Nye, the Science Guy

"A wonderfully hilarious romp through Lynn Brunelle's world, complete with directions on how to turn the most awkward and smelly aspects of parenting into teaching moments.  Mama Gone Geek is a memoir and a how-to book on its surface, but it is also--and more importantly so--a testament to the undying love, joy, faith, and protectiveness a mother feels for her family. Brunelle's ability to see her world anew, even as she knows precisely how to describe it to her children, is refreshing, touching, and, ultimately, very gratifying. Brava!"—Garth Stein, author of The Art of Racing in the Rain

"Lynn Brunelle is the love child of Erma Bombeck and Mr. Wizard!"—Susan Wiggs, author of The Apple Orchard and The Beekeeper's Ball

"Mama Gone Geek is my favorite book of the year. Funny and touching. Every parent can relate to her stories. I'm buying it for all my friends."—Suzanne Selfors, author of The Imaginary Veterinary series
Roost Books, 9781611801514, 240pp.
Publication Date: October 28, 2014
About the Author
LYNN BRUNELLE is a four-time Emmy Award-winning writer for the television series Bill Nye the Science Guy, with over twenty years of writing experience. A former classroom science, English, and art teacher for kids K-12, as well as an editor, illustrator, and award-winning, best-selling author of over forty titles, Brunelle has created, developed, and written projects for PBS, NPR, A&E, the Discovery Channel, National Geographic, Disney, and ABC. She is a regular presenter of science and art projects in classrooms and schools. She lives on an island off the coast of Washington.
or
Not Currently Available for Direct Purchase