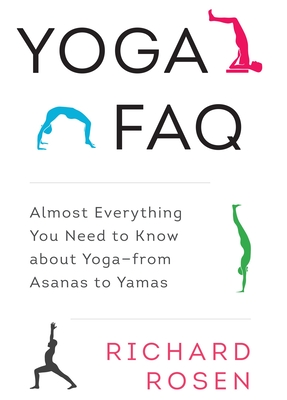 Yoga FAQ (Paperback)
Almost Everything You Need to Know about Yoga-from Asanas to Yamas
Shambhala, 9781611801736, 272pp.
Publication Date: February 28, 2017
Other Editions of This Title:
MP3 CD (5/9/2017)
* Individual store prices may vary.
Description
Concise and readable answers to the most commonly asked questions about yoga, and illuminating little-known facts and esoteric aspects of the philosophy and practice--by renowned yogi Richard Rosen.


Here are answers to all the questions that come up in your yoga practice and study! Renowned yoga teacher Richard Rosen has asked—and been asked—nearly every yoga-related question that there is, and his wonderfully practical, helpful answers will give you a thorough explanation of the tradition's key concepts, and the nuts and bolts of yoga philosophy and practice, including:



   • Yoga's main texts, including the Upanishads, Bhagavad Gita, Yoga Sutra, among others

   • Yamas and niyamas

   • The subtle body—what it means and what it looks like in practice

   • The evolution of asanas

   • Pranayama

   • Mudras and bandhas

   • And much more
About the Author
RICHARD ROSEN is a graduate of the Iyengar Institute of San Francisco and has been teaching yoga since 1987. He is a contributing editor at Yoga Journal and the president of the board of directors of the Yoga Dana Foundation (www.yogadanafoundation.org), which supports Northern California teachers bringing yoga to underserved communities in the Bay Area. His teaching schedule is at www.richardrosenyoga.com.
Praise For Yoga FAQ: Almost Everything You Need to Know about Yoga-from Asanas to Yamas…
"Richard Rosen is one of the most thoughtful, generous, funny, humble, and researched fellas that I know. Yoga FAQ is a testimony to Richard's character as a man and diligence as a yogi. The content is for anyone that is not satisfied with being a blind follower.  Richard has done the research and held the debates to debunk unsubstantiated yoga myths that we deem as fact.  His curiosity and not being satisfied with superficiality has brought us a text that will leave many of us scratching our heads and maybe even feeling a little defensive as our beliefs are being tested. This is important stuff for anyone that craves to see what is below the surface of the yogic teachings. If we keep asking the questions, maybe we might get a glimpse of how these practices can bring about true happiness?"—Colleen Saidman, author of Yoga for Life
 
"Richard Rosen has crafted a delightful book that equally showcases both his academic knowledge about yoga and his gentle sense of humor. Yoga FAQ is a clear resource that helps us to formulate and understand our big questions about yoga and spiritual practice. I felt as if I was tucking into the personal story of Mr. Rosen's own journey studying yoga—and the trip was intriguing and fun. Highly recommended for all levels of students and especially for yoga teachers."—Judith Hanson Lasater, PhD, PT, author of Relax and Renew and Yoga Body

"Richard Rosen is one of the wisest, warmest, and funniest writers I know, as well as being one of the most skilled and learned yoga teachers in America. In this book he brings all of those qualities to bear on some of the topics that routinely confuse students of yoga, new and old. A great service."—Mark Singleton, author of Yoga Body: The Origins of Modern Posture Practice and Roots of Yoga