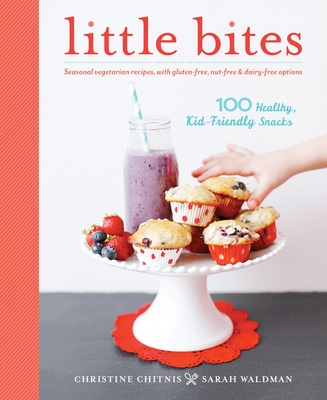 Little Bites (Paperback)
100 Healthy, Kid-Friendly Snacks
Roost Books, 9781611801774, 288pp.
Publication Date: July 14, 2015
* Individual store prices may vary.
Description
Leave the packaged snacks behind! Little Bites offers 100 wholesome, seasonal, vegetarian snacks perfect for active families.

When you're on the go with little ones, snacks are essential. Whether it's an energetic pick-me-up after school or a nutritional boost at the playground, the 100 wholesome snacks in this book will help everyone get through the day. From Roasted Sesame Peas to Fresh Summer Rolls, Baked Apple Chips, and Mini Sweet Potato Pies, you'll find seasonal fruit- and vegetable-forward snacks that are tasty, healthy, and satisfying.

Developed by two busy moms, this collection of inspired recipes is just right for active families that care about what they eat. Don't settle for prepackaged snacks. These nutritionally dense treats are simple to make, are easy to pack, and, as a bonus, make great breakfasts, light lunches, or side dishes for dinner.
About the Author
CHRISTINE CHITNIS is a writer, photographer, and mother. Her writing has appeared in Country Living, Time Out New York, the Boston Globe, and Edible Rhody, among many other local and national publications. She served as a contributing editor at Yankee Magazine, and her work has been praised by the Washington Post and The Today Show, as well as by numerous popular blogs, including Design*Sponge, Apartment Therapy, Decor8, and Cup of Jo. She is the author of Markets of New England.

SARAH WALDMAN Sarah Waldman is a home cook, certified health counselor, recipe developer, and mother. She lives with her husband and two young sons on Martha's Vineyard. While pregnant with her first son, she attended the Institute of Integrative Nutrition, acting on her urge to stop the cycle of processed and low-quality food appearing on America's dinner tables. Follow Sarah's island adventures in cooking local, seasonal, wholesome family food at SarahWaldman.com.
Praise For Little Bites: 100 Healthy, Kid-Friendly Snacks…
"Little Bites is full to the brim with real food recipes, tips, and ideas to keep snack times exciting, fun, and, most importantly, nourishing—proving that snacks don't have to come from a packet to be enjoyed. What a blessing."—Emma Galloway, author of My Darling Lemon Thyme
 
"Don't let snack food (aka junk food) corporations hijack your child's taste buds—grab a copy of Little Bites instead! Authors Christine Chitnis and Sarah Waldman have infused care and originality into dozens of happy snack recipes that will enhance any child's health while educating their palate. Parents and childcare providers will delight in the focus on seasonal fruits and vegetables; children will love the bright colors and flavors.  Christine and Sarah have our back at snack time."—Cynthia Lair, author of Feeding the Whole Family

"Christine and Sarah's authentic, friendly voices will lure you into Little Bites, but their practical tips and simple, fresh, seasonal recipes will hook you for good. Soon you'll realize that these snacks--from Melon Slushies and Cherry Tomato Cheddar Bites to Carrot Cake Sandwich Cookies and Roasted Pumpkin Hummus—aren't just for kids; adults will love them, too! Best of all, the recipes, while fresh and innovative, are entirely doable, even (and maybe especially) for busy parents who want to make healthy snacks but don't have loads of free time to spend in the kitchen."—Susie Middleton, author of Fast, Fresh, and Green and Fresh from the Farm

"Toss the Goldfish! Here are the easy, tasty, healthy snacks your kids will crave. This book will help you tackle the snack trap with delicious alternatives your kids will love."—Laurie David, author of The Family Cooks and The Family Dinner