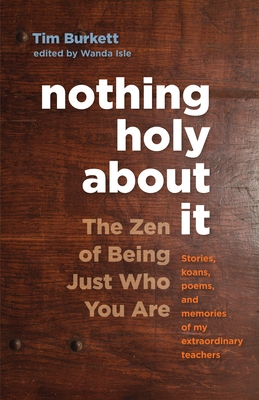 Nothing Holy about It (Paperback)
The Zen of Being Just Who You Are
Shambhala, 9781611801941, 256pp.
Publication Date: April 28, 2015
Other Editions of This Title:
MP3 CD (10/20/2015)
* Individual store prices may vary.
Description
When Bodhidharma, the legendary first ancestor of Zen, was asked about the main principle of his holy teaching, he's said to have replied: "A vast emptiness—with nothing holy about it!" A millennium-and-a-half later, Tim Burkett finds that the answer still applies: you don't need to go looking for something holy—buddha nature is right here in front of you. The concise summary of Zen teaching he presents in this book is expressed precisely in terms of what he found right in front of him: beginning with the delightful non-holiness he experienced in the presence of his original teacher, Shunyru Suzuki, and continuing through a lifetime of further teaching experiences.
About the Author
TIM BURKETT, PhD, is Guiding Teacher of the Minnesota Zen Meditation Center in Minneapolis, Minnesota. He is also a licensed psychologist and director of a large mental health agency. He was a student of Shunryu Suzuki Roshi and later of Dainin Katagiri Roshi, in whose lineage he is a dharma heir.
Praise For Nothing Holy about It: The Zen of Being Just Who You Are…
"Amidst Tim Burkett's insights into Buddhism and life, there emerges a wonderful, intimate picture of Shunryu Suzuki. I learned a lot from this book."—David Chadwick, author of Crooked Cucumber: The Life and Zen Teaching of Shunryu Suzuki

"Fresh and personal and full of great stories culled from a life devoted to the cultivation of wisdom and compassion. A wonderful testament." —Red Pine, author of Road to Heaven: Encounters with Chinese Hermits

"I have long been aware of Tim Burkett's deep respect and appreciation for his teacher, Suzuki Roshi. Now I know why. Here's a touching account of how great an impact one life can have upon another." —Steve Hagen, author of Buddhism Is Not What You Think: Finding Freedom Beyond Beliefs

"Enjoy this wonderful, useful, profound yet modest book that expresses the true spirit of Zen. It and its warm-hearted author are blessings for the world, and I am honored and very pleased to introduce them to you."—from the foreword by Norman Fischer, author of Training in Compassion