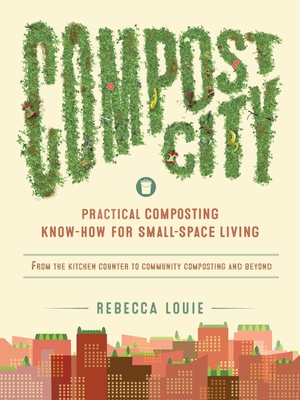 Compost City
Practical Composting Know-How for Small-Space Living
Paperback

* Individual store prices may vary.
Description
These days,
everyone's
talking about compost.
Along with backyard chickeners, balcony beekeepers, rooftop farmers, and community gardeners, urban composters are part of a bumper crop of pioneers who are redefining the green space of crowded towns and cities.
You may think you need a big yard to compost. Think again.
Compost City
teaches you how to easily choose and care for a compost system that fits perfectly into your (tiny) space, (busy) schedule, and (multifaceted) lifestyle.
Whether you live in a cramped apartment or a sprawling town house, or you dream of composting in a shared space with a group of friends or colleagues,
Compost City
provides simple and effective indoor and outdoor composting options.
Packed with research, expert testimonies, and a healthy dose of humor,
Compost City
will help you:
• compost your food scraps and yard waste with ease
• ease your fears of backbreaking labor, obnoxious odors, big messes, and creepy crawlies (hint: you can compost successfully without any of the above!)
• convince compost-wary family, friends, neighbors, and community leaders to green-light your compost dreams
Compost City
serves all eco-curious citizens from casual hobbyists to staunch activists.
Put your compost cap on. Whether you compost one tea bag or whole honking barrelfuls of scraps at a time, you're about to have a whole lot of
fun
.
Praise For Compost City: Practical Composting Know-How for Small-Space Living…
"You've never seen a book on composting like this one—it's wonderful. No excuses, no putting it off. Compost City guides even the most squeamish sophisticate into delightful partnership with browns, greens, and worms."—Joel Salatin, farmer, author, and educator at Polyface Farm

"A master composter and real-life eco-hero wielding a worm fork, Rebecca Louie makes composting fun, inviting, and accessible to everyone from beginners to gardening pros. She renews my faith in a sustainable future, and will inspire yours."—Gabrielle Langholtz, editor of Edible Manhattan and Edible Brooklyn

"Compost City is a must-read for any would-be composter, urban or otherwise. In an informative, whimsical way, Rebecca Louie de-icks composting, debunks its myths, and DIY-ifies its methods. By the end, you'll be able to compost this book, but you wouldn't dream of doing so for fear of losing a vital resource."—Jonathan Bloom, author of American Wasteland and creator of wastedfood.com

"Shelburne Farms is always looking for new ways to connect teachers and students with agriculture that goes beyond their time here on the farm. Compost is a crucial component to healthy food systems, but you don't need 1,400 acres to practice this. Compost City illustrates all you need to know about recycling food, no matter how small the space at home or school. We believe that learning should be infused with joy and wonder, and Louie does just that with her fun, engaging style. Compost City will be well-used in our library."—Alec Webb, President of Shelburne Farms, VT

"Composting is a great way to give back to the miraculous organism that is soil, and Rebecca Louie's informative, hands-on, highly entertaining how-to makes this complex process real and doable for the home composter. It's a fun read, and more important, it's full of technical information and specific tips that empower anyone to go forth and compost successfully. Thank you, Rebecca! Compost City will help heal our cities and soil."—Deborah Koons Garcia, writer, director, and producer of Symphony of the Soil and The Future of Food
Roost Books, 9781611802207, 176pp.
Publication Date: May 19, 2015
About the Author
REBECCA LOUIE, a certified Master Composter, is also a journalist, beekeeper, and friend to all worms. She divides her time between New York City and the Catskill Mountains. To learn more about Rebecca and her work, please visit rebeccalouie.com and thecompostess.com.