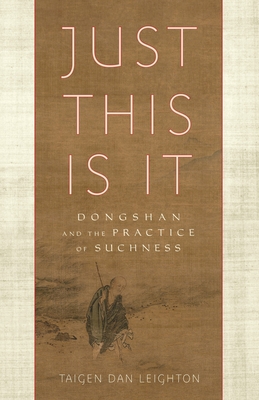 Just This Is It
Dongshan and the Practice of Suchness
Paperback

* Individual store prices may vary.
Description
Teachings on the practice of things-as-they-are, through commentaries on a legendary Chinese Zen figure.

The joy of "suchness"—the ultimate and true nature inherent in all appearance—shines through the teachings attributed to Dongshan Liangjie (807–869), the legendary founder of the Caodong lineage of Chan Buddhism (the predecessor of Soto Zen). Taigen Dan Leighton looks at the teachings attributed to Dongshan—in his Recorded Sayings and in the numerous koans in which he is featured as a character—to reveal the subtlety and depth of the teaching on the nature of reality that Dongshan expresses. Included are an analysis of the well-known teaching poem "Jewel Mirror Samadhi," and of the understanding of particular and universal expressed in the teaching of the Five Degrees. "The teachings embedded in the stories about Dongshan provide a rich legacy that has been sustained in practice traditions," says Taigen. "Dongshan's subtle teachings about engagement with suchness remain vital today for Zen people and are available for all those who wish to find meaning amid the challenges to modern lives."
Praise For Just This Is It: Dongshan and the Practice of Suchness…
"What a delight! Readers conditioned to believe that Zen koans are mind-bending nonsense puzzles will read here with pleasure lucid and relevant commentaries."—Norman Fischer, author of Training in Compassion

"Leighton is masterful in weaving together specific approaches evoked through stories about and sayings by Dongshan to create a powerful and inspiring religious vision that is useful for students and researchers as well as practitioners of Zen."—Steven Heine, author of Did Dōgen Go to China? What He Wrote and When He Wrote It
Shambhala, 9781611802283, 256pp.
Publication Date: April 7, 2015
About the Author
TAIGEN DAN LEIGHTON is a Soto Zen priest and a dharma successor in the lineage of Shunryu Suzuki Roshi, having received transmission in 2000 from Tenshin Reb Anderson. He is the cotranslator and editor of several Zen texts, and he is the author of Zen Questions: Zazen, Dogen, and the Spirit of Creative Inquiry; Faces of Compassion: Classic Bodhisattva Archetypes and Their Modern Expression; and Visions of Awakening Space and Time: Dogen and the Lotus Sutra. Leighton is now Dharma Teacher of the Ancient Dragon Zen Gate temple in Chicago.
or
Not Currently Available for Direct Purchase