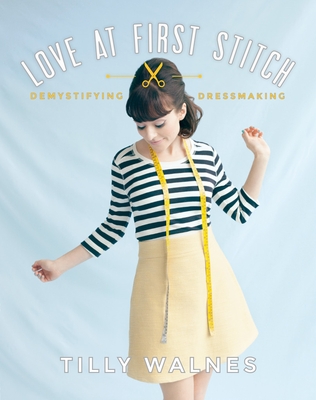 Love at First Stitch
Demystifying Dressmaking
Paperback

* Individual store prices may vary.
Description
Simple, elegant, and a little groovy, Love at First Stitch is all you need to start making the dresses of your dreams--with 7 complete full-size patterns.

Fancy making your own clothes but have no idea where to start? Tired of overwhelming sewing manuals and frumpy projects? Love at First Stitch offers a refreshing approach to dressmaking for modern makers, taking you from the basics of threading your sewing machine through creating gorgeous garments that you'll love to wear. Let Tilly Walnes inspire you with her jargon-busting tutorials, down-to-earth attitude, and adorable dressmaking style, showing you that making your own clothes is so much more enjoyable than buying them.

• Build your skills and confidence one project at a time: new techniques are introduced when you need them.
• Step-by-step photographs take the head-scratching out of sewing.
• Includes 7 full-scale, multisize patterns, ready to be traced and used again and again.
• Tilly's hints and tips for making sewing part of your lifestyle, adding your own special touch to any sewing project, and even how to polish your signature style.

Tilly Walnes demystifies dressmaking for the generations that have never been taught to sew. Written for novice stitchers by the author of the popular sewing blog Tilly and the Buttons, this book presents the sewing basics in an informal style, with Tilly's friendly and encouraging voice cheering the reader on throughout. Instead of overwhelming the novice dressmaker with theory, this book is about learning by doing. Each chapter presents practical tips and inspiration to guide you through creating a made-to-measure garment from one of the seven versatile and adaptable patterns included with the book, which can then be personalized to suit your individual style. Peppered throughout the book are Tilly's top sewing tips, including everything from what to look out for when buying--or borrowing--your first sewing machine, to how to behave in a fabric shop so that you appear like an expert, to techniques for pressing perfection.
Praise For Love at First Stitch: Demystifying Dressmaking…
"Tilly Walnes breaks down handmade clothing in an approachable, fun-to-read way.  Each chapter contains a project, beginning simple with a scarf and ending with an impressive lined dress.  Plus Tilly provides variations to make the project your own and suggestions for making sewing not only a hobby, but a lifestyle.  Sewists of all skill levels will enjoy this beautiful book."—Sew News
Roost Books, 9781611802344, 192pp.
Publication Date: October 14, 2014
About the Author
On a whim and feeling the urge to fill a creative void, TILLY WALNES signed up for a three-day dressmaking course. It was love at first stitch. Her newfound joy in sewing her own clothes--but lack of friends who could also sew--led Tilly to start her blog, Tilly and the Buttons, so that she could share her experiences and swap tips with other would-be dressmakers. Within three years of first threading a needle, Tilly's blog is the most popular sewing blog in the UK and she appeared as a contestant in the first season of The Great British Sewing Bee, the only contestant to design and draft her own garment designs. Between teaching dressmaking classes at sewing schools in both London and Birmingham, Tilly is developing her own line of dressmaking patterns.