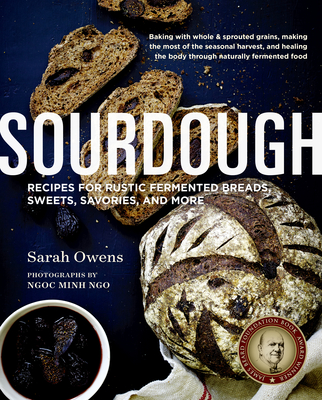 Sourdough
Recipes for Rustic Fermented Breads, Sweets, Savories, and More
Hardcover

* Individual store prices may vary.
Description
2016 James Beard Award Winner (Baking & Desserts)


101 recipes for baking with whole and sprouted grains, making the most of the seasonal harvest, and healing the body through naturally fermented food

Sarah Owens spent years baking conventional baked goods, only to slowly realize she had developed a crippling inability to digest or tolerate their ingredients. Unable to enjoy many of her most favorite foods, she knew she must find a health-sustaining alternative. Thus Sarah started experimenting with sourdough leavening, which almost immediately began to heal her gut and inspire her anew in the kitchen. Soon after, her artisan small-batch bakery, BK17, was launched, and with that, a new way to savor and share nutritious sourdough breads and treats with her Brooklyn community.
    
Sourdough and other fermented foods are making a comeback because of their rich depth of flavor and proven health benefits. In Sourdough, Sarah demystifies keeping a sourdough culture, which is an extended fermentation process that allows for maximum flavor and easy digestion, showing us just how simple it can be to create a healthy starter from scratch. Moreover, Sarah uses home-grown sourdough starter in dozens of baked goods, including cookies, cakes, scones, flatbreads, tarts, and more--well beyond bread. Sarah is a botanist and gardener as well as a baker--her original recipes are accented with brief natural history notes of the highlighted plants and ingredients used therein. Anecdotes from the garden will delight naturalists and baked-goods lovers among us. Laced with botanical and cultural notes on grains, fruits and vegetables, herbs, and even weeds, Sourdough celebrates seasonal abundance alongside the timeless craft of artisan baking.
Praise For Sourdough: Recipes for Rustic Fermented Breads, Sweets, Savories, and More…
"If you've been mystified by sourdough, allow Sarah Owens to be your guide. This creative and immensely talented baker incorporates it into everything—from cookies and biscuits to cakes and, of course, glorious breads. You will want to eat every recipe in this stunningly photographed book."—Maria Speck, award-winning author of Simply Ancient Grains and Ancient Grains for Modern Meals
"If you love baking bread and are fascinated by the mysteries of sourdough, Owens' new book is a way in for novices and a fun read for those who already know their way around natural levain. This is also a great book for gardeners, as Owens give primers on things like making your own lilac sugar and elder flower cordial."-Los Angeles Times
"Sourdough has a new champion with some unusual moves . . . so intriguing."-Minneapolis Star Tribune

"In addition to a wide range of creative and versatile recipes, Sourdough highlights the joy of working in season with the power of microbes in one of our most loved foods: bread. Sarah's tasty creations and intimate interactions with the natural world inspire us to trust the life forces that contribute to the health of our inner and outer ecosystems—she inspires a more thoughtful experience with food."—Tara Whitsitt, Founder of Fermentation on Wheels
"It's an attractive book and intriguing read . . . [Sourdough's] another big boy on the book front, as gardener/artisan baker Owen's book shares here journey toward fresh food and healthy grains and the role sourdough played."-The Clarion Ledger
Roost Books, 9781611802382, 320pp.
Publication Date: November 3, 2015
About the Author
SARAH OWENS is the head steward of the internationally celebrated rose collection and gardens at the Brooklyn Botanic Garden, and the founder of BK17 Bakery, an artisan microbakery in Brooklyn. BK17 specializes in baking with sourdough. Sarah's customers get fresh baked goods delivered through a subscription serving Brooklyn and Manhattan. She has been featured in Edible Manhattan, on Gardenista, and on 66 Square Feet and has appeared on The Martha Stewart Show.