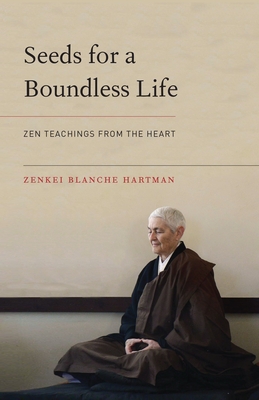 Seeds for a Boundless Life (Paperback)
Zen Teachings from the Heart
Shambhala, 9781611802849, 192pp.
Publication Date: August 25, 2015
* Individual store prices may vary.
Description
Short and accessible teachings from one of America's pioneer woman Zen teachers.

Zenkei Blanche Hartman is an American Zen legend. A teacher in the lineage of Shunryu Suzuki, author of Zen Mind, Beginner's Mind, she was the first female abbot of an American Zen center. She is greatly revered, especially in the San Francisco Bay Area, where she has lived and taught for many years. This, her long-awaited first book, is a collection of short teachings taken from her talks on the subject of boundlessness--the boundlessness that sees beyond our small, limited self to include all others. To live a boundless life she encourages living the vows prescribed by the Buddha and living life with the curiosity of a child. The short, stand-alone pieces can be dipped into whenever one is in need of inspiration.
About the Author
Zenkei Blanche Hartman (1926–2016) was a Soto Zen teacher in the lineage of Suzuki Roshi and a revered elder figure in American Zen. She spent two terms as abbot of the San Francisco Zen Center and was in fact the first woman abbot of a Zen center in America. She's an expert in rakusu-sewing (those bib-like things you see Zen practitioners wear that represent the Buddha's robe), and she's been particularly known for her attention to women's issues in Buddhism and Zen.
Praise For Seeds for a Boundless Life: Zen Teachings from the Heart…
"A great Zen master gives us her total heart in this beautiful book of her teachings. She 'gives life to life,' and in this way, gives humanity to humanity through her deep understanding of her life and our life. What a treasury of rare and earthly wisdom!"—Joan Halifax, author of Being with Dying

"Simple Zen, that makes you pause, appreciate; full of respect, kindhearted as a grandmother, and unpretentiously wise."—Jack Kornfield author of A Path with Heart

"These wise and compassionate words of Zenkei Blanche Hartman are grounded in forty-five years of continuous Zen practice. There is nothing superficial here. The basis of these talks is Zenkei Roshi's fundamental touchstone of zazen meditation and her interaction with countless Zen students over these many years. Take a look inside and treat yourself to the no-frills understanding of a truly mature person."—Sojun Mel Weitsman, Abbot, Berkeley Zen Center

"Like so many other Zen students, my practice has been nourished by Zenkei's loving wisdom. From basic Buddhism, through Zen ancestors to engaged relationships and social action, this book will guide you, warm your heart, and deepen your practice."—Grace Jill Schireson, author of Zen Women: Beyond Tea Ladies, Iron Maidens,and Macho Masters

"Blanche Hartman's love and wisdom shine through this book. It is a perfect expression of Zen from one of America's great Zen teachers."—Gil Fronsdal, translator of The Dhammapada
or
Not Currently Available for Direct Purchase