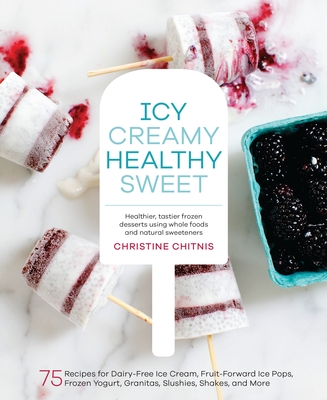 Icy, Creamy, Healthy, Sweet (Hardcover)
75 Recipes for Dairy-Free Ice Cream, Fruit-Forward Ice Pops, Frozen Yogurt, Granitas, Slushies, Shakes, and More
Roost Books, 9781611802894, 224pp.
Publication Date: April 5, 2016
* Individual store prices may vary.
Description
Sweet and healthy frozen desserts, from ice pops, shaved ice, and granitas to frozen yogurt, sorbet, and dairy-free ice cream—from the co-author of Little Bites.


When the days turn hot, or when you're looking for that perfectly refreshing and light dessert or snack, ice pops are a natural, as are slushies, granitas, frozen yogurt, ice cream, shakes, floats, and more. In Icy, Creamy, Healthy, Sweet author Christine Chitnis has you covered. With 75 recipes for a full range of frozen sweets, you'll find healthy treats that use fresh fruits, vegetables, and herbs, that are free of refined sugars, and that include vegan and dairy-free options. The results are flavorful, unique, refreshing, and healthy—making the whole experience a little sweeter.
About the Author
CHRISTINE CHITNIS is a writer, photographer, mother, and home cook, who lives with her husband and two young sons in Providence, Rhode Island. Her writing and photography are inspired by the farmland and coasts of her adopted home state, though her love of the natural world dates back to childhood summers spent in northern Michigan. Her writing has appeared in Country Living, the Boston Globe, and Edible Rhody, among many other local and national publications. Christine's first book, Markets of New England (The Little Bookroom, 2011), highlights fifty of the most unique and vibrant farmers' markets and art events in the region. For adventures in cooking, gardening, mothering, and crafting, visit ChristineChitnis.com.
Praise For Icy, Creamy, Healthy, Sweet: 75 Recipes for Dairy-Free Ice Cream, Fruit-Forward Ice Pops, Frozen Yogurt, Granitas, Slushies, Shakes, and More…
"Before you crank up the AC, crack open this book. Icy, Creamy, Healthy, Sweet is chock full of creative and flavorful recipes guaranteed to help you stay cool when the mercury soars. I, for one, will be forever grateful for these words, images, and clever, delicious suggestions."—Ashley English, author of Quench