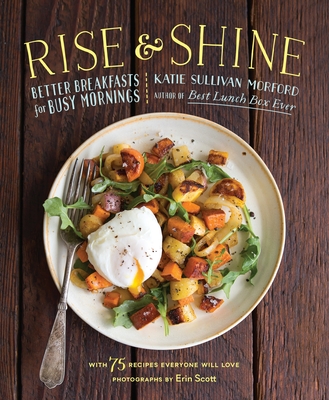 Rise and Shine
Better Breakfasts for Busy Mornings
Hardcover

* Individual store prices may vary.
Description
Give your kids--and yourself--something to rise and shine about! 75 recipes that make the first meal of the day worth waking up for.


Rise and Shine is the answer for every parent who has struggled to get breakfast on the table and to get their child to actually eat it. With 75 breakfast recipes that are entry-level-easy, with at least half requiring no more than five minutes of hands-on prep time, every delicious recipe is an exercise in good nutrition and good taste. Written by a nutritionist with three children, this book arms parents with tips, recipes, and inspiration for making a nourishing breakfast doable and delicious. Rise and Shine is made for busy families and busy mornings, so when breakfast isn't the priority, you can still eat something to start your day off right.
Praise For Rise and Shine: Better Breakfasts for Busy Mornings…
"Rise & Shine is the cookbook that will have you racing out of bed in the morning to make mouthwatering dishes for every craving. Katie Morford puts her nutritionist hat on to offer balanced, nutritious recipes that are so delectable that you'll almost forget they're good for you. By remodeling the first meal of the day, you'll set yourself and those you love up for success from the very first bite! "—Catherine McCord, creator of Weelicious.com and author of Weelicious: One Family, One Meal and Weelicious Lunches

"Eating a good breakfast is one of the healthiest habits of all, but so many of us are stuck in a rut with it or, even worse, skip it altogether. Rise & Shine is a sunny burst of breakfast inspiration with easy, enticing, nourishing recipes and clever tips that are sure to set you on the right course for the day. "—Ellie Krieger, RD, nutritionist, TV personality, and cookbook author

"For a family, breakfast can be the most hopeful time of the day—or the most challenging. In Katie Morford's beautiful and totally approachable book, she takes your hand and walks you through recipes, strategies, and start-your-day smarts that make everyone eager to rise and shine. "—Sarah Copeland, author of Feast and food director, Real Simple magazine
Roost Books, 9781611802948, 224pp.
Publication Date: August 16, 2016
About the Author
KATIE SULLIVAN MORFORD, MS, RD, is a freelance food and nutrition writer with more than twenty years of professional writing experience. She has been published in the New York Times, the San Francisco Chronicle, Real Simple, Cooking Light, Bon Appétit, Shape, Self, and Fit Pregnancy. She is also on the advisory board of New Parent and Baby & Toddler magazine where she consults on nutrition-related content. Katie is the author of the cookbook Best Lunch Box Ever (Chronicle Books, 2013), and the the blog Mom's Kitchen Handbook, which she launched in December 2010. When not cooking, you can usually find her curled up with a book, practicing yoga, or traveling with her husband and three daughters.
or
Not Currently Available for Direct Purchase