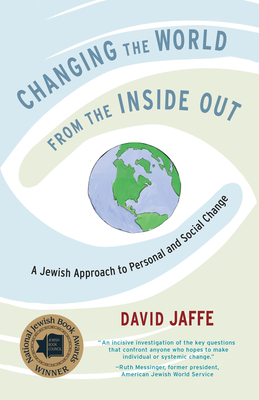 Changing the World from the Inside Out
A Jewish Approach to Personal and Social Change
Paperback

* Individual store prices may vary.
Description
WINNER OF THE 2016 JEWISH BOOK COUNCIL AWARD FOR CONTEMPORARY JEWISH LIFE AND PRACTICE

An inspiring and accessible guide, drawn from Jewish wisdom, for building the inner qualities necessary to work effectively for social justice.

The world needs changing—and you're just the person to do it!  It's a matter of cultivating the inner resources you already have. If you are serious about working for social justice and change, this book will help you bring your most compassionate, wise, and courageous self to the job.

Bringing positive social change to any system takes deep self-awareness, caring, determination, and long-term commitment. But polarization, the slow pace of change, and internal conflicts among activists and organizations often leads to burnout and discouragement among the very people needed to make a difference. Changing the World from the Inside Out distills centuries of Jewish wisdom about cultivating and refining the inner life into an accessible program for building the qualities necessary to accomplish sustainable change. Through explorations of deep motivation, inner-drive, and traits like trust and anger, this book engages the reader in a journey of self-development and transformation, demonstrating that sustainable activism is indeed a spiritual practice. Jaffe offers accessible and meaningful guidance for this journey—with exercises, contemplations, and discussion points that can be used individually or in a group.
Praise For Changing the World from the Inside Out: A Jewish Approach to Personal and Social Change…
"This wise book is essential reading for anyone who recognizes that the world's problems demand spiritual solutions, because it is we who must change before we can expect to change the world. Rabbi Jaffe draws on deep and time-tested Jewish wisdom to guide us to become more effective activists by bringing our highest truth to bear on public issues. He shows us how to tap the wellsprings of motivation, channel emotions, and align our behavior with our highest values to make us more effective in serving the public good. Changing the World from the Inside Out is full of valuable lessons that will help ensure that your holy light shines like a beacon in these dark times, when we need it so much."—Alan Morinis, author of Everyday Holiness
 
"David Jaffe offers an incisive investigation into the key questions that confront anyone who hopes to make individual or systemic change. He encourages us to understand our motivations and drives—and how to use these to move toward the change we want, to help others move with us, and to not burn out in the process.—Ruth W. Messinger, former President of the American Jewish World Service
 
"Changing the World from the Inside Out combines sweeping, idealistic visions to repair the planet with practical, realistic approaches that enable this to get done, one step at a time. It offers a path with directions how to repair one's self and grow into a kind, understanding, nurturing partner in progress."—Rabbi Yitz Greenberg, President Emeritus, The National Jewish Center for Learning and Leadership


"An inspiring integration of musar (inspirational) literature and practice with numerous examples of how one can take the insights of that "inner" discipline and use it to make a difference in the world."—Raddi Sid Schwarz, New York Jewish Week
Trumpeter, 9781611803358, 224pp.
Publication Date: October 11, 2016
About the Author
DAVID JAFFE is a rabbi, a social worker, and an educational consultant to many major Jewish institutions in North America. He's a nationally recognized leader in the field of Mussar and applied Jewish ethics, and he is a frequent speaker at synagogues and Jewish conferences around the country. He's spent twenty-five years teaching and working in various areas of social justice outreach, including homelessness and interfaith community organizing.  www.rabbidavidjaffe.com