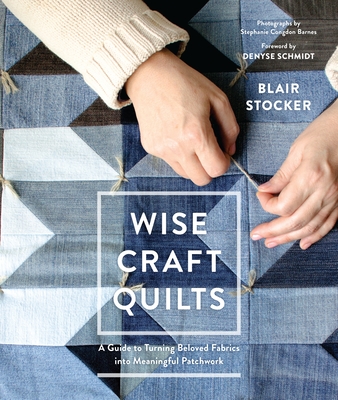 Wise Craft Quilts (Hardcover)
A Guide to Turning Beloved Fabrics into Meaningful Patchwork
Roost Books, 9781611803488, 192pp.
Publication Date: March 14, 2017
* Individual store prices may vary.
Description
Infuse your quilts with love--how to add your personal story and more meaning to your handmade quilts.

In Wise Craft Quilts, celebrated quilt designer and crafter Blair Stocker shares ways to use cherished fabrics to make quilts with more meaning. Each of the twenty-one quilts featured here gathers a special collection of fabric, outlines a new technique, and spins a story. By using special fabrics as the starting point for each project—from a wedding dress to baby's first clothes, worn denim, Tyvek race numbers, and more—the finished quilt is made even more special. Create quilts that have a story to tell and you'll find a whole new level of appreciation for what they represent in your life and the lives of the ones you love.
About the Author
BLAIR STOCKER is the author, quiltmaker, upcycler, painter, teacher, DIY daredevil, and founder of Wise Craft Handmade. She began writing about her creative pursuits on her blog Wise Craft in 2005. Today, she teaches and lectures across the country on her philosophy of creative reuse in handmade goods. In her first book, Wise Craft: Turning Thrift Store Finds, Fabric Scraps, and Natural Objects into Stuff You Love(Running Press, March 2014), she brought together all the aspects of a handmade home, through seasonal color inspiration and a variety of handmade projects spanning furniture makeovers, crochet, knitting, quilting, and painting.
Praise For Wise Craft Quilts: A Guide to Turning Beloved Fabrics into Meaningful Patchwork…
"I wish I could have had my hands on this book when I began making quilts."—Denyse Schmidt, from the Foreword