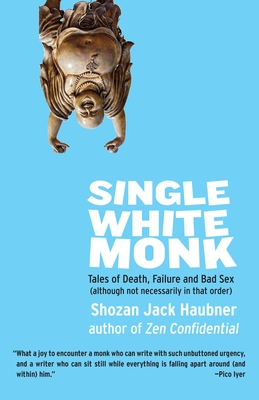 Single White Monk (Paperback)
Tales of Death, Failure, and Bad Sex (Although Not Necessarily in That Order)
Shambhala, 9781611803631, 208pp.
Publication Date: October 10, 2017
* Individual store prices may vary.
Description
Think the life of a Zen monk is all serenity, peace, and austerity? Think again. Here, Shozan Jack Haubner gives an often-hilarious, always-candid account of what it's really like behind those monastery walls. Haubner's adventures include memories of his dysfunctional Midwestern family that drove him ultimately to declare, "I think I should be a monk!" to a madcap account of the night he got stoned and snuck out of the monastery, alongside more sobering accounts such as his life-threatening brush with illness, the profound impact of a dear friend's death, and reflections on the controversy that rocked his Zen community. That he finds timeless wisdom in both the tragic and the absurd is a tribute to Haubner's gifts as a writer and humorist, and to his clear insights into the nature of self and what the practice of Zen is all about.
About the Author
Shozan Jack Haubner is the pen name of a Zen monk whose essays have appeared in The Sun, Tricycle, Buddhadharma, and the New York Times, as well as in the Best Buddhist Writing series.  The winner of a 2012 Pushcart Prize, he is also the author of Zen Confidential: Confessions of a Wayward Monk. 
Praise For Single White Monk: Tales of Death, Failure, and Bad Sex (Although Not Necessarily in That Order)…
"Shozan Jack Haubner has the rare, the enviable, gift of being sneakily wise, un-pious, liberating, and 1000 percent himself, all while not seeming to take too much too seriously. I've grown drunk on his pieces—teetotaler though I am—for years now, and keep foisting his exhilaratingly honest, unique, fearless and sometimes scurrilous essays on everyone I care about. The man sounds as if he knows Zen practice so deeply that he's come out at the other end, full of candor, fresh air and the constant slaps of humor that are all that can wake some of us up as we fall into our ruts and fantasies of happy endings. Reading Single White Monk, I had to keep a notebook by my side to catch the startling truths—about death, about ego, about suffering—that kept flashing out from its riotous pages. What a joy to encounter a monk who can write with such unbuttoned urgency, and a writer who can sit still while everything is falling apart around (and within) him."—Pico Iyer

"Shozan Jack Haubner has written a beautiful book that both Buddhist practitioners and general readers will love. Gifted as a writer, he will have you laughing out loud until your sides hurt, then experiencing the deepest pain over our fragility and flaws as humans (even if we are master Zen teachers), and finally feeling gratitude for his hard-won dharma wisdom. Single White Monk, as one man's spiritual journey, is existentially raw, bawdy, spiritually refined, and satisfies in every way I can imagine."—Charles Johnson, author of Middle Passage and Taming the Ox

"A lot of books, movies, and TV shows present pretty fantasies of the lives of Zen monks. Those are cute, but I doubt they do anything but fill people's heads with unrealistic dreams. Shozan writes about what it's really like, which is way more valuable."—Brad Warner, author of Hardcore Zen and Don't Be a Jerk: And Other Practical Advice from Dogen, Japan's Greatest Zen Master