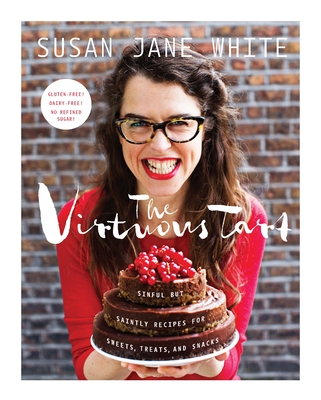 The Virtuous Tart (Hardcover)
Sinful but Saintly Recipes for Sweets, Treats, and Snacks
Roost Books, 9781611804058, 224pp.
Publication Date: January 10, 2017
* Individual store prices may vary.
Description
Have your cake and eat it too--recipes for sinful sweets with redeeming health benefits. 

Now you can have your cake and eat it too! Discover virgin drinks, virtuous tarts, and saintly treats that are packed with nutritional hits that love your body, boost your brain, and make you feel and look great. In over 60 recipes with healthy benefits you'll discover new ingredients that not only taste better but treat your body better too. Recipes include:
·         Piña Kale-ada, full of fortifying folate
·         Lemon Shizzle Cake, bursting with vitamin C and an anti-inflammatory dose of turmeric
·         Honuts, the healthy donut
·         Macaccino Torte with Toasted Pecan and Chocolate Crumble, beaming with stamina-building maca and antioxidant-rich cacao

Imagine a nutritional slam dunk while snacking on chocolate! Picture your taste buds raving to the tune of coconut torte! Visualize your toes break-dancing with every crunch of a ginger cookie! The recipes in The Virtuous Tart will nurse your sweet tooth and energize your body, and Susan Jane will have you laughing all the while. 

97% of the recipes in this book are gluten free.**

**Two recipes in the book contain gluten: Chocolate Guinness Cake (p. 97) and Sea Salteasers (p. 194)
About the Author
SUSAN JANE WHITE is a specialist cook, a food and health columnist with The Sunday Independent, and a former president of Oxford University's Gastronomy Society. When she was twenty-five, Susan Jane developed a serious immune disorder. This marked the beginning of her nutritional pilgrimage. She discovered that her energy levels were intimately linked with the food she ate, so she avoided foods that taxed her body--anything processed or highly refined. And it worked! Two years later she was back to her bouncy, bionic self, much to the wonderment of the medical community. She lives in Dublin with her husband and two little vandals.
Praise For The Virtuous Tart: Sinful but Saintly Recipes for Sweets, Treats, and Snacks…
"This beautiful book proves that you can truly have it all while still committing to your most vibrant and healthful self. When nutrition is bundled up in ooey-gooey, sticky, rich, and sweet decadence, it's a win-win for everyone regardless of their dietary tendencies. Susan Jane is the undisputed master of that deceptively wholesome, completely delicious duality."—Laura Wright, creator of the Saveur award-winning blog The First Mess
 
"Have you ever giggled your way through a recipe method? I hadn't either until The Virtuous Tart landed in my kitchen. This cookbook is seriously the most fun you'll ever have discovering and embracing a whole world of delicious wheat-, dairy-, and refined sugar–free treats, drinks and snacks."—Amy Chaplin, author of At Home in the Whole Food Kitchen
 
"Where Ireland meets California, with delicious food and entertaining prose."—Béatrice Peltre, author of La Tartine Gourmande and My French Family Table
 
"Susan Jane White the best thing since iced tea!"—Imen McDonnell, author of The Farmette Cookbook
 
"Her recipes seem like some delicious, illicit sin."—Irish Independent 

"Quirky, super fun food."—Emma Galloway, author of My Darling Lemon Thyme

"Susan Jane's passion is infectious. All of her recipes are so smashing delicious and wholesome at the same time--I love everything she whips up!"--Sonja Dahlgren, creator of the blog Dagmar's Kitchen

or
Not Currently Available for Direct Purchase