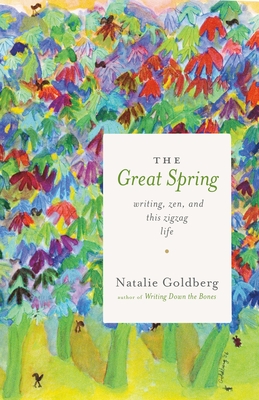 The Great Spring
Writing, Zen, and This Zigzag Life
Paperback

* Individual store prices may vary.
Other Editions of This Title:
Hardcover (2/2/2016)
MP3 CD (10/11/2016)
Description
From the beloved writing teacher behind Writing Down the Bones comes a treasury of personal stories reflecting a life filled with journeys—inner and outer—zigzagging around the world and home again

Here, Natalie Goldberg shares those vivid moments that have wakened her to new ways of being. We follow alongside her mapless meanderings in the New Mexican desert and her pilgrimages to Bob Dylan's birthplace and to Larry McMurtry's dusty Texas ghost town of rare books. We feel her deep hunger while she sits zazen in a monastery in Japan, and her profound loss when she hears of the passing of a dear friend while teaching in the French countryside.

Through it all, she remains grounded in a life informed by two constants: the practices of writing and of Zen. With humor and insight, Natalie encircles around the essential questions these paths compel her toward: Where does this life lead? Who are we?

This is a book to be relished one awakening at a time. Each story is a reminder that no matter how hard the situation or desolate you may feel, spring will come again, breaking through a cold winter, bringing early yellow forsythia flowers. And the Great Spring of enlightenment—that sudden rush of acceptance, pain cracking open, obstructions shattering—will also burst forth.
Praise For The Great Spring: Writing, Zen, and This Zigzag Life…
"Natalie Goldberg is one of the world's most beloved writing teachers, a mentor who has inspired millions to take up the pen and write. Here, in The Great Spring, a collection of her best short essays on food, family, writing, painting, meditation, travel, love, loss, death and enlightenment, she follows her own sage counsel, writing her way toward an understanding of what it is to be fully alive."
—Ruth Ozeki, author of A Tale for the Time Being

"No one writes about Zen and writing and being human with more honesty, verve, and punch than Natalie Goldberg. Now in the fullness of her Great Spring, she tells, with more vividness and wisdom than ever before, stories from her life illuminated by the Zen teachings and practice that have informed it. I promise you will be, as I was, enthralled from the first page to the last. This may be her best book yet!"
—Zoketsu Norman Fischer, author of Experience and What is Zen

"The Great Spring is a book about writing, about meditating, about traveling, about wondering and wandering, asking essential questions, searching for answers and yielding delightful and pertinent revelations. Only Natalie Goldberg can make this all come together with her patented clear and powerful prose."
—Lee Gutkind, editor of Creative Nonfiction magazine and author of You Can't Make This Stuff Up

"Goldberg writes observantly, with a direct simplicity. She gently catches your eye while piercing the soul. To read her is to invite your own transformation."
—Jonathan Odell, author of Miss Hazel and the Rosa Parks League

"At times rhapsodic at others profound, Natalie Goldberg delivers her heart in The Great Spring. She's courageous to bring us this great ride through her life."
—David Chadwick, author of Crooked Cucumber

"The Great Spring is a wonderful jaunt through a woman's life.  What a solace it is to know there is a smart, stubborn, outspoken human being in the world who is obsessed with figuring it all out. After reading Natalie Goldberg's The Great Spring, I felt a stirring; something curious, nostalgic, and something I'd sorely missed: There is hope for all of us."
—Tom Spanbauer, author of I Loved You More
Shambhala, 9781611804072, 224pp.
Publication Date: February 14, 2017
About the Author
NATALIE GOLDBERG is the author of fourteen books, including Writing Down the Bones, which has changed the way writing is taught in this country. She teaches retreats nationally and internationally. She lives in New Mexico.