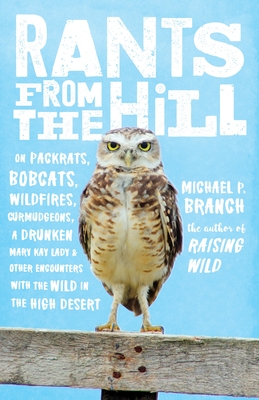 Rants from the Hill
On Packrats, Bobcats, Wildfires, Curmudgeons, a Drunken Mary Kay Lady, and Other Encounters with the Wild in the High Desert
Paperback

* Individual store prices may vary.
Description
"If Thoreau drank more whiskey and lived in the desert, he'd write like this."—High Country News
 
Welcome to the land of wildfire, hypothermia, desiccation, and rattlers. The stark and inhospitable high-elevation landscape of Nevada's Great Basin Desert may not be an obvious (or easy) place to settle down, but for self-professed desert rat Michael Branch, it's home. Of course, living in such an unforgiving landscape gives one many things to rant about. Fortunately for us, Branch—humorist, environmentalist, and author of Raising Wild—is a prodigious ranter. From bees hiving in the walls of his house to owls trying to eat his daughters' cat—not to mention his eccentric neighbors—adventure, humor, and irreverence abound on Branch's small slice of the world, which he lovingly calls Ranting Hill.
Praise For Rants from the Hill: On Packrats, Bobcats, Wildfires, Curmudgeons, a Drunken Mary Kay Lady, and Other Encounters with the Wild in the High Desert…
"Think: Cagney amid the cacti" —Las Vegas Review-Journal
 
"Lyrical and subversive, the book is a rollicking celebration of living a joyously untamed life. An engagingly quirky collection." —Kirkus Reviews
 
"There have been dozens of hermit-in-the-woods Walden-like memoirs and essay collections written since Henry David Thoreau's death, but few capture Thoreau's raw, stubborn love for the natural world with as much humor and honesty as Michael P. Branch's Rants From the Hill'—Chicago Tribune

"At its best this book lends to Nevada the sort of sacred quality that good stories give to places. Reading it left me caring about a place I did not know and have never seen . . . . this book fits in well with the hyperlocal tradition of nature writing. Branch knows about something beautiful and wants to share it . . . . Rants from the Hill might fit well on a western nature writing syllabus, or selected essays might find a home in a broader course, but it's mostly just a pleasure to read." —Western American Literature
Roost Books, 9781611804577, 232pp.
Publication Date: June 6, 2017
About the Author
MICHAEL P. BRANCH is a professor of literature and environment at the University of Nevada, Reno, where he teaches creative nonfiction, American literature, environmental studies, and film studies. He has published five books and more than two hundred essays, articles, and reviews. Mike lives with his wife, Eryn, and daughters, Hannah Virginia and Caroline Emerson, in a passive solar home of their own design at 6,000 feet in the remote high desert of northwestern Nevada, in the ecotone where the Great Basin Desert and Sierra Nevada Mountains meet. There he writes, plays blues harmonica, drinks sour mash, curses at baseball on the radio, cuts stove wood, and walks at least 1,200 miles each year in the surrounding hills, canyons, ridges, arroyos, and playas.