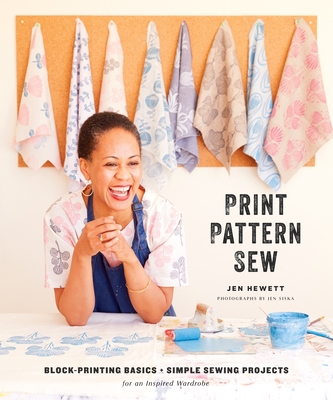 Print, Pattern, Sew
Block-Printing Basics + Simple Sewing Projects for an Inspired Wardrobe
Hardcover

* Individual store prices may vary.
Description
Create bold block prints for a completely custom wardrobe--print fabrics, customize patterns, and sew garments that truly express your own style.

This book offers:

   • Clear how-to instructions for carving motifs from soft blocks, plus 13 designs to get you started

   • A guide to printing on fabric and construct repeating patterns

   • 13 projects and full-size patterns for garments and accessories for a complete hand-printed wardrobe

Infuse your everyday style with more color, more pattern, and more personality. Printmaker and textile designer Jen Hewett presents her distinctive process for block-printing yards of fabric with garment sewing in mind. Explore the process of designing and printing fabric through step-by-step instruction on carving blocks and printing pattern repeats. Hewett makes creating custom, hand-printed fabric approachable and doable.

Inspired by her California home, Hewett's designs reference the plants and landscape around her through botanical motifs, organic shapes, and a bold graphic quality. Paired with a playful use of color, the pattern designs here offer the perfect place to start with block-printing. Once you've printed your fabric, it's time to sew. With sewing patterns for simple garments and accessories, you'll discover the play between fabric and finished project and work toward building a highly customizable wardrobe. With step-by-step photos, clear instructions, and full-size sewing patterns this is a complete guide to sewing clothes that truly reflect your style and personality.
Praise For Print, Pattern, Sew: Block-Printing Basics + Simple Sewing Projects for an Inspired Wardrobe…
"I have had the privilege to bear witness to the magic of Jen Hewett's creative genius for many years. Print Pattern Sew brings that magic to life for anyone who wants to learn to block print and sew their own clothes from this master of the craft. In this handsome and easy-to-follow volume, Jen makes seemingly-complex projects less intimidating, more accessible, and all together thoroughly enjoyable."—Lisa Congdon, artist, illustrator, and author

"Print, Pattern, Sew is an absolutely gorgeous book. The instructions are clear, the photography impeccable, and the clothing patterns are fresh and flattering—and simple enough for a hobby seamstress like me. Now all I want to do is carve blocks, print fabric, and make myself a whole new wardrobe!"—Lisa Solomon, artist and author of Knot Thread Stitch

"Print, Pattern, Sew has everything you need to create beautiful fabric and a completely personalized wardrobe. Offering both instruction and inspiration, Jen Hewett provides clear directions, addresses questions, and, most importantly, throws open the possibilities to make pieces that are uniquely your own."—Sonya Philip, creator of 100 Acts of Sewing

"Print, Pattern, Sew is a beautiful and creative resource that brings together (in one place—yes!) Jen Hewett's wealth of knowledge in printmaking and sewing. Along with the fun projects, resources, and tips, I was most inspired by the behind-the-scenes look at Jen's creative process—getting a look at her sketches, her studio, and her materials, as well as learning about the inspiration behind her patterns and clothing, got me excited about making and helps me think about my own creative process. If you want to learn from an expert and are looking to experiment with block printing on fabric to create your own wearables, definitely add this book to your library or studio space."—Andrea Pippins, author of I Love My Hair and Becoming Me

"Clearly instructed, beautifully photographed, and full of great projects. As a craft and sewing professional I love when I get my hands on a book that teaches me a new skill or expands on a skill I already have without making my brain hurt. This book delivers what is promised. If you have ever wanted to set yourself apart by designing your own textiles then do yourself a favor and buy this book."—Mimi Goodwin, editor-in-chief and designer, Mimi G Style

"This alluring how-to guide combines block printing with garment sewing to yield dreamy bohemian scarves, preppy printed aprons, elegant summer dresses, and more. Hewett, a designer in San Francisco who teachers screen printing classes online, divides her book into three sections. In "Print," she lays out basics of block-printing, which involve a block, carving tools, ink, and fabric. She then moves to graphic prints, detailing repeat patterns (straight, half-drop, and bricked) and creating multicolor prints. Throughout, Hewett offers tips, troubleshooting, and practical guidelines. Her detailed instructions—right down to describing the sound of gloppy ink—suit the needs of the advanced beginner, who wants to customize scarves, dresses, blouses, and even espadrilles. The projects are ambitious, but Hewett's gorgeous book will entice many crafters to give them a try."—Publishers Weekly 

"The wide variety of techniques used to create these projects means that this book is packed with information, making it useful to readers looking for a specific part of the process as well as those who want to complete the projects from start to finish."—Booklist 

"[Print, Pattern, Sew]is a treasure trove of knowledge that coaches novices and experts alike through the process of creating block-printed garments — it's like one big, handy how-to guide that breaks down everything from tools needed, to navigating mistakes, to easy-to-read steps on each project. Print, Pattern, Sew also includes seven full-size original patterns, so you can get started right away. With projects that include making your own tote bag, apron, fold-over clutch, cap-sleeved blouse, and more, it's hard to choose which project to tackle first!"—Design*Sponge

"A stellar reference for the entire process of designing and printing fabric, then using it in projects. Hewett includes thorough instruction for every step."—Library Journal 
Roost Books, 9781611804621, 176pp.
Publication Date: May 22, 2018
About the Author
Jen Hewett is a printmaker, surface designer, textile artist, and teacher. A lifelong Californian, she combines her love of loud prints and saturated colors with the textures and light of the landscapes she grew up with to create printed textiles that are both highly tactile and visually layered. Her hand-printed textile collages have been exhibited at Rare Device in San Francisco, and Artstream Gallery in New Hampshire, and her work has been featured in print (Anthology Magazine, Uppercase, and Taproot) as well as online (Design*Sponge, Today is Going to Be Awesome) and in a number of books. When not creating in her tiny (54 square feet!) San Francisco studio or teaching her popular block printing on fabric classes, she can be found cycling around San Francisco on her pink bike, chatting with her neighbors at the local wine bar, walking her tiny rescue dog Gus, gossiping with friends, redecorating her apartment, or noodling on her couch.
or
Not Currently Available for Direct Purchase