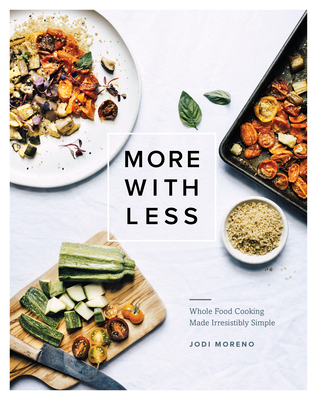 More with Less
Whole Food Cooking Made Irresistibly Simple
Hardcover

* Individual store prices may vary.
Description
2019 James Beard Award Nominee (Health & Special Diets)

A sophisticated, yet simple take on cooking with whole foods—filled with creative combinations that use fewer ingredients to elevate everyday fare into something extraordinary.

This is not your average healthy cookbook.
This is slow food fast.
This is high-impact flavor in ten ingredients or less.
This is clean eating for the modern palate and schedule.
This is food you want to eat.
 
Think of the recipes as simple equations. Using a few ingredients + easy preparations + homemade condiments, author Jodi Moreno gives you the tools you need to create complex flavors with little effort. This food is perfect for a busy day but sophisticated enough to share.
 
With foolproof recipes like:
Coconut + Ginger + Turmeric + Oats
Honey Roasted Nectarines + Kale + Pine Nut + Oat Croutons
Harissa + Coconut Milk + Delicata Squash + Lentils
Salmon + Broccoli + Spicy Ginger Sesame Mustard
Apple + Miso + Date Crisp
 
Elegant, delicious, nourishing. This is More with Less.
Praise For More with Less: Whole Food Cooking Made Irresistibly Simple…
"Jodi's book transports you to a calm, beautiful place where she gives you all the tools to eat well. She has a generous collection of dressing and sauces that elevate any meal and a breadth of ideas for any season. The imagery is beautiful and the recipes are unique and full of wholesome ingredients—I can't wait to dive further into this cookbook!" —Sara Forte, author of The Sprouted Kitchen and The Sprouted Kitchen: Bowl + Spoon

"In More with Less, Jodi shares her philosophy for cooking simply and using food as medicine to create recipes full of texture and flavor that we want to eat with both our eyes and our hearty appetites."  —Aran Goyoaga, author of Small Plates & Sweet Treats and creator of the blog Cannelle et Vanille

"More with Less is a tour de force in sharing indulgent food that is deliciously healthy. Jodi Moreno is such a clever cook—she has a unique way of turning everyday ingredients into a spectacular, flavor-punching dish. Dishes like Caraway Tomato Baked Eggs, Deviled Brussels Sprout Salad, Piri Piri Broccoli Bites, and Thai Peanut Sweet Potato Skins are stellar examples of how we can all incorporate more smashing vegetables into our busy lives. Jodi is truly the "Condiment Queen"—her comprehensive chapter of homemade sauces, dressings, and condiments is truly exciting and I plan on making all of these soon! More with Less is an essential modern guide on how to eat more wholesome food in a tasty way." —Hetty McKinnon, owner of Arthur Street Kitchen, and author of Community and Neighborhood

"As Jodi Moreno is a neighbor in Amagansett, I have had the pleasure of cooking with her on many occasions. I can also recall going to her place for the first time—I stood in awe of her beautifully stocked refrigerator, complete with condiments galore. Through these and many other kitchen interactions I have learned a great deal about Jodi's cooking practices and principles and her steadfast belief in simple, quality ingredients and innovative techniques for healthier eating. Now with her beautiful cookbook everyone can gain insight into her kitchen, pantry, and refrigerator. Jodi shares how condiments are the secret weapon for throwing together a delicious meal, and I could not agree more. With More with Less, all of our kitchen encounters will be that much more wholesome, natural, and delicious!" —Athena Calderone, author of Cook Beautiful and creator of the blog EyeSwoon

"This is a best bet for naturally segueing to whole-food-based cooking." —Booklist

"More With Less is full of pared-down recipes that are ultra-seasonal and look gorgeous too."—Bon Appetit

"More with Less makes whole-food cooking and clean eating a feasible--and flavorful--possibility for home cooks. Moreno's plant-centered dishes and her invitation to play with flavors, ingredients and textures in new and exciting ways will appeal to vegetarians and omnivores alike; even those skeptical of the health benefits of clean eating will find new dishes to explore here"—Shelf Awareness

"Jodi's food is refreshingly alive, absent of fuss and as beautiful as the flavors are satisfying. Every page is an invitation."—Lily Diamond, creator of the Kale & Caramel blog

"Fresh, easy dinner dishes requiring no more than 10 ingredients are in fashion. A new cookbook from blogger Jodi Moreno of specializes in this type of cuisine." —Montreal Gazette

"More with Less by Jodi Moreno is a perfect pick if you're looking for delicious whole food meals that have interesting, non-boring flavor combinations. It's accessible but fancy all at once." —Hello Giggles
Roost Books, 9781611804706, 272pp.
Publication Date: April 24, 2018
About the Author
JODI MORENO is a natural foods chef, food stylist, photographer, and the creator of the award-winning blog, "What's Cooking Good Looking." Her creative, healthy, simple recipes have been featured on Saveur, Better Homes and Gardens, and PBS. She is also a recipe developer for brands such as Whole Foods, Simply Organic, Reynolds Wrap, and Saveur. She divides her time between New York City and Amagansett, NY.
or
Not Currently Available for Direct Purchase