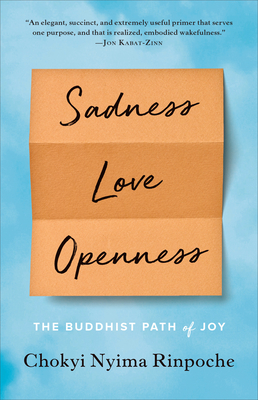 Sadness, Love, Openness (Paperback)
The Buddhist Path of Joy
Shambhala, 9781611804881, 120pp.
Publication Date: July 3, 2018
* Individual store prices may vary.
Description
A direct, pithy, and accessible guide to the entire path of Tibetan Buddhism by one of the most beloved and respected contemporary lamas.

Accessible, playful, and genuine, this concise guide shows how we can incorporate our own daily experiences into our spiritual path and awaken to how things truly are. By embracing sadness, love, and openness in our lives, we develop an altruistic attitude to help all beings who suffer and to reduce our own greed and aggression. This easy-to-read manual by one of the most widely loved and respected Tibetan Buddhist teachers of our time teaches us how to honestly explore and deal with our own hang-ups and neuroses. Through knowing our own true nature as aware and compassionate, we can progress, step-by-step, on the Buddhist path and use Rinpoche's pithy wisdom along the way as a touchstone.

Chokyi Nyima Rinpoche's fresh and engaged approach to timeless Buddhist wisdom enables us to deeply connect with authentic teachings in a modern context. This work is a delight and inspiration to read, outlining the major teachings and practices of Buddhism in a succinct way.
About the Author
Meditation master and renowned teacher CHOKYI NYIMA RINPOCHE has been teaching audiences around the world for the past 25 years. Known for his warmth, humor and wit, his teachings offer a unique opportunity to directly connect with the Buddhist tradition in a fresh, vital way that is relevant to our lives today. Rinpoche is the founder of the Ka-Nying Shedrub Ling monastery in Kathamandu and the Rangjung Yeshe Institute, an internationally recognized college that teaches Buddhist philosophy and language. Rinpoche travels extensively teaching Buddhism and has students and centers throughout the world.
Praise For Sadness, Love, Openness: The Buddhist Path of Joy…
"Warm and accessible, yet profound and insightful. Chokyi Nyima Rinpoche offers compelling advice for our times. This book is a treasure of timeless wisdom that today is needed more than ever."
—Cher
 
 "My friend and teacher Chokyi Nyima Rinpoche is a seasoned and authentic Dzogchen master. He has written a book that throws a lifeline to all of us struggling in the sea of ignorance, desire, and hatred. As he says, "Dharma is not a hobby," but it is a very serious business indeed. Dharma can save us from the ocean of forgetfulness so that we may remember who we really are: beings of light, love, and wisdom. Complete liberation is possible if we do the work and guaranteed if we follow our teacher's advice. Rinpoche takes us through the stages of Buddhist practice leading to the joy and freedom of the Great Perfection, Dzogchen. Rinpoche emphasizes the necessity of embracing the truths of impermanence and dependent origination as the sources of our future enlightenment. This is a truly inspiring book for all practitioners."
—Richard Gere

 "Different traditions differ in how they understand and use the term mindfulness, yet they agree on the nondual nature of mind and the need for authentic instruction and practice.  As venerable Chokyi Nyima Rinpoche describes in this elegant, succinct, and extremely useful primer on essential Dharma as a way of being, there are many different methods in the universe of meditation, but in the end—and from the beginning—those that are authentic and trustworthy serve one purpose, and that is realized, embodied wakefulness." 
—Jon Kabat-Zinn, author of Full Catastrophe Living and Meditation Is Not What You Think

 "Chokyi Nyima Rinpoche embodies the insight and compassion of a bodhisattva. In Sadness, Love, Openness he shares his profound understanding of the Buddhist view of life—it's suffering and the path to liberation from that suffering—and offers a generous gift to anyone who wants to embrace the Dharma."
—Daniel Goleman, author of Emotional Intelligence
 
 "Here we learn how to truly appreciate all of life—in full sadness and full happiness—with the simple recipe of being calm, kind, and aware, and full of joy in everything."
—Piet Hut, Professor of Astrophysics and Head of the Program in Interdisciplinary Studies, Princeton

"Somewhere between a preliminary guidebook and fine-spun philosophy, this comforting volume succeeds as an easy introduction to Buddhist thinking and practice."
—Publishers Weekly

"Traditional, yet novel and fresh; challenging, yet kind and encouraging; profound, yet clear and concise. For serious practitioners, aspiring meditators, and those who seek to enhance their practice, this book holds immense promise."
—Tricyle