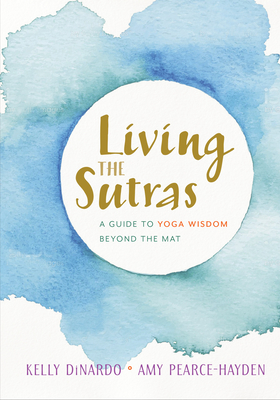 Living the Sutras
A Guide to Yoga Wisdom beyond the Mat
Paperback

* Individual store prices may vary.
Description
Bring the wisdom of ancient Yoga philosophy into your life in a fresh, accessible, and relevant way.

In its highest form, yoga is a practice for your body and your mind. Living the Sutras brings the wisdom of classical yoga philosophy into your life in an accessible and relevant way. The Yoga Sutras, a foundational text of yoga philosophy and practice, written by the guru Patanjali over two thousand years ago, are made up of 196 aphorisms that offer potent teachings on how to deal with loss and pain, and guidance on how to lead a healthy and fulfilling life. Kelly DiNardo and Amy Pearce-Hayden offer an entrée to this yoga training for the mind and spirit by introducing a sutra or group of sutras on a related theme, providing a brief commentary, and writing prompts to allow you to reflect on and apply the meaning of the sutras to your life. The book is at once an introduction to the classical philosophy, a quick guide for students and teachers, and an active self-study that helps you to engage with yoga wisdom in a deeply personal way.
Praise For Living the Sutras: A Guide to Yoga Wisdom beyond the Mat…
"Living the Sutras will deepen your understanding of the power of the yoga sutras to cultivate and sustain positive change. You're invited on a journey of self-study in order to balance, clarify, and set clear intentions for the life you've always wished to live."—Elena Brower, author, Practice You and Art of Attention

"Amy Pearce-Hayden and Kelly DiNardo deliver the ancient wisdom of the Yoga Sutra of Patanjali in practical, down-to-earth ways to help us find the sacred in our crazy, messy, busy lives. In doing so, they lovingly teach us what it means to live life on purpose."—Linda Sparrowe, author of Yoga Mama and The Women's Book of Yoga and Health

"Living the Sutras is a tool to make the other aspects of Yoga as approachable and accessible as the asana is today. It's an opportunity to learn where we are in our mind and spirit and then harness it. It's a way to make the ancient wisdom found in the Sutras relevant to our modern lives. And it's a guide for putting it all together so we can live with ease and purpose."—Integral Yoga Magazine 

"For those who really want a journaling and meditative practice around the Sutras, this would be a great resource. The Sutras are laid out succinctly and DiNardo and Pearce-Hayden offer excellent reflection space after each. A perfect guide for dipping your toe into where and how you understand the Sutras and their impact on your own life."—Book Riot
Shambhala, 9781611805499, 208pp.
Publication Date: June 12, 2018
About the Author
Amy Pearce-Hayden has devoted twenty years of study, practice, and teaching to classical yoga, Ayurveda, Tantra, and meditation. She founded the RajaHatha School of Yoga in 2003, and continues to certify teachers in her 200 and 500 hour lineage. She is also a regular guest contributor to Yoga International and yoga instructor for the Himalayan Institute in Honesdale, Pennsylvania.

Kelly DiNardo is a journalist and author whose work regularly appears in The New York Times, O: The Oprah Magazine, National Geographic Traveler, among others. She is also a yoga instructor and owner of Past Tense yoga studio in Washington, DC.