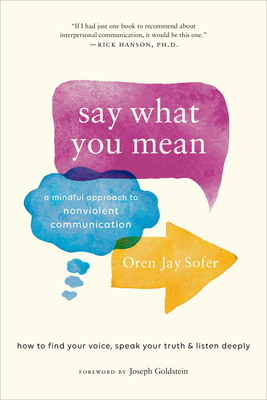 Say What You Mean (Paperback)
A Mindful Approach to Nonviolent Communication
Shambhala, 9781611805833, 304pp.
Publication Date: December 11, 2018
Other Editions of This Title:
Paperback, Chinese (1/1/2020)
* Individual store prices may vary.
Description
Find your voice, speak your truth, listen deeply—a guide to more meaningful and mindful conversations.

We spend so much of our lives talking to each other, but how much are we simply running on automatic—relying on old habits and hoping for the best? Are we able to truly hear others and speak our mind in a clear and kind way, without needing to get defensive or go on the attack? In this groundbreaking synthesis of mindfulness, somatics, and Nonviolent Communication, Oren Jay Sofer offers simple yet powerful practices to develop healthy, effective, and satisfying ways of communicating. 

The techniques in Say What You Mean will help you to:
·      Feel confident during conversation
·      Stay focused on what really matters in an interaction
·      Listen for the authentic concerns behind what others say
·      Reduce anxiety before and during difficult conversations
·      Find nourishment in day-to-day interactions
About the Author
OREN JAY SOFER leads retreats and workshops on mindful communication around the United States. A member of the Spirit Rock Teacher's Council, he teaches in the Insight Meditation community, holds a degree in comparative religion from Columbia University, and is a Somatic Experiencing Practitioner and a Certified Trainer of Nonviolent Communication. Oren creates mindfulness training programs for apps and organizations and lives in Richmond, California. Visit www.orenjaysofer.com for more information.
Praise For Say What You Mean: A Mindful Approach to Nonviolent Communication…
"Unconscious patterns of communication create separation not only in our personal lives, they also perpetuate patterns of misunderstanding and violence that pervade our world. With clarity and great insight, Oren Jay Sofer offers teachings and practices that train us to speak and listen with presence, courage, and an open heart."—Tara Brach, author of Radical Acceptance and True Refuge

"Oren Jay Sofer offers us a brilliant intertwining of focused presence and artful engagement. Our work, family, and any other relationships will benefit from his guidance."—Daniel Goleman, author of Emotional Intelligence and Altered Traits

"Full of practical exercises that develop powerful communication and mindfulness skills, this timely and engaging book shows us how caring, curiosity, and connection can transform people's lives, even in the face of aggression."—Susan Kaiser Greenland, author of Mindful Games and The Mindful Child

"By the time we reach adulthood, most of us have learned to operate through such deeply engrained patterns of language and behavior that virtually all of our communication involves projection, assumption, and bias. No wonder we often feel so cut off and all alone! Mr. Sofer deftly weaves together his mindfulness practice and principles of Nonviolent Communication to help us learn how to find one another again. This is a powerful guidebook to thinking, speaking, and listening with authenticity and care. Bravo!"—Sharon Salzberg, author of Real Happiness and Real Love
 
"This tremendous book addresses one of the biggest challenges in any relationship: how to combine heart with strength, compassion with assertiveness. Written with great warmth and clarity, it brings together well-researched principles, effective tools and suggestions, powerful experiential practices, and many examples. It is down-to-earth and completely accessible while also being so deep, even profound. If I had just one book to recommend about interpersonal communication, it would be this one."—Rick Hanson, Ph.D., author of Resilient: How to Grow an Unshakable Core of Calm, Strength, and Happiness

"Oren Jay Sofer's first book, Say What You Mean, is a helpful guide for speaking wisely and with love. It offers terrific tools and understandings that are critical to the art of communicating clearly and from the heart."—Jack Kornfield, author of No Time Like the Present and Bringing Home the Dharma
 
"Meeting the enormous challenges of living in these times calls for an integration of inner practices of mindfulness with outer practices of communicating with honesty, vulnerability, strength, care, and empathy. Oren shows us a way to do just that."—Miki Kashtan, Certified Nonviolent Communication Trainer and author of Spinning Threads of Radical Aliveness
 
"Oren Jay Sofer's eloquent book Say What You Mean could just as well be titled Living What You Mean. Going beyond the surface level of communication, he describes our relational journey together in its inherent connections with how we behave, how we express, perceive, and meet the needs of ourselves and others, how we engage with difference and even conflict, how we negotiate love and anger—in sum, how to fully live this complex life. Sofer gives essential frameworks, perspectives, and skills for our shared humanity."—Larry Yang, Buddhist teacher and author of Awakening Together: The Spiritual Practice of Inclusivity and Community
 
"Words have tremendous power—both to harm, and to heal. In Say What You Mean, Oren shares a 3-part process for communicating with mindfulness, clarity, and compassion, and creating more connection and understanding in our relationships. In these times of turbulence and conflict, we need this more than ever before."—Chris Kresser, M.S., L.Ac , New York Times best-selling author of The Paleo Cure and Unconventional Medicine

"Detailed, thorough, and practical, Say What You Mean shines light on the ability of good communication to bring more compassion, kindness, and wisdom to our relationships."—Foreword Reviews (starred review)

"Through discussion and example, and supported by reflections and practices to ground the teaching, [Oren Jay Sofer] helps us explore our own habituated styles of not just communication, but of viewing the world, and how this impacts how we speak to one another, and, importantly, how we listen."—Mindful Magazine