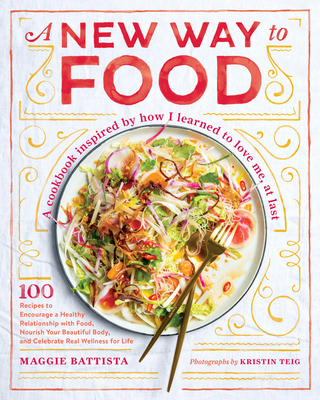 A New Way to Food
100 Recipes to Encourage a Healthy Relationship with Food, Nourish Your Beautiful Body, and Celebrate Real Wellness for Life
Hardcover

* Individual store prices may vary.
Description
Discover a body-positive approach to food through nourishing recipes, heart-opening stories, and helpful lessons on creating a healthy relationship with food.

Maggie Battista struggled with eating and dieting her whole life, until she discovered the foods and recipes that made her finally see herself as worthy of good health. In this kind and generous cookbook she shares the more than 100 mostly wholesome, mainly dairy-free, plant-based, and always refined sugar–free recipes that helped her find her way to good health, lose 70 pounds, and rid herself of years of chronic aches and pains. With stories that chronicle her struggles, victories, and lessons from finally reconciling her relationship with food; tips and advice on changing your own approach to food; and recipes for every time of day and occasion; A New Way to Food is the playbook for seeing yourself with kinder eyes and enjoying every meal along the way.
Praise For A New Way to Food: 100 Recipes to Encourage a Healthy Relationship with Food, Nourish Your Beautiful Body, and Celebrate Real Wellness for Life…
"More than a cookbook, Maggie Battista's A New Way to Food is a love story about her learning to accept herself and, along the way, inspiring us to evaluate our own relationships with ourselves and our bodies. If I could change one thing about it, it would be the ability to go back in time and give my younger self a copy."—Julia Turshen, author of Now & Again, Feed the Resistance, and Small Victories

"Maggie tells her story in such an honest and approachable way, and the plant-based plan she offers is both do-able and delicious! This is the way I like to eat and she has so many great recipe ideas that I will be using."—Erin Gleeson, author of The Forest Feast

"Maggie Battista's A New Way to Food is more than a diverse collection of nutritious and beautiful recipes. It is an essential statement about empowerment through healthy self-care. With this cookbook/self-help hybrid, Maggie shows us more than A New Way to Food; she shows us the way to a better self."—Andie Mitchell, author of the New York Times bestselling memoir It Was Me All Along and Eating in the Middle

"A New Way to Food is filled with in-depth knowledge about realizing your beautiful authentic potential, reckoning with your past and loving yourself all while eating Maggie's incredibly delicious recipes along the way. This cookbook is filled with fresh, clean and delicious options for any season from Blueberry Plum Crisp Pie to Sweet Potato Gnocchi. Every woman who has struggled with their health should dive into these pages and prepare to be inspired by Maggie's journey and personal experience. I cannot recommend this cookbook enough. It will truly shift your perspective about what being healthy and beautiful really means inside and out."—Amie Valpone, best-selling author of Eating Clean: The 21-Day Plan to Detox, Fight Inflammation, and Reset Your Body

"We are taken by how Maggie, through health and weight struggles, has proved we are all capable of change. Her beautiful new book is a full take on how to create a positive relationship with food and we are certain it will inspire many on their own journeys."—David Frenkiel and Luise Vindahl, authors of Green Kitchen Stories

"Detailing a revitalizing lifestyle change that advocates eating mindfully, [A New Way to Food] imparts gentle self-care tips that focus on letting go of setbacks and taking a wholesome approach to food. There's less motivational cheerleading than genuine, been-there-done-that compassion. Leaving room for differences, Battista says that there's no single way a journey should unfold." —Foreword Reviews

"I can't recommend this book enough.  The words are honest and encouraging and the recipes are playful and approachable and exciting!"—Joy the Baker

"The book is in tune with current thinking that everyone is different and previous notions of how people should look — how traditional models and celebrities look — aren't practical or realistic for most people. Happiness comes when you combine healthy eating with a healthy lifestyle and a healthy attitude about the body you've been given."—Boston Globe


Roost Books, 9781611806175, 304pp.
Publication Date: February 5, 2019
About the Author
MAGGIE BATTISTA is the founder and director of Eat Boutique, an award-winning online boutique and story-driven recipe site. She has built a business and life as a tastemaker, excelling in bringing people together (both online and in real life) and inspiring them through her own recipes (including her cookbook, Food Gift Love); collections of hand-chosen, small-batch food from the very best food and drink makers; one-of-a-kind events and pop-up markets for 20,000+ guests; and speaking engagements where she shares her insights on food, technology, and social marketing. She's currently working on opening her first permanent Eat Boutique, a food retail concept space that provides a new way to food in Boston and then beyond.
or
Not Currently Available for Direct Purchase