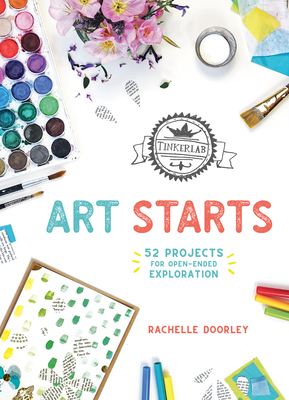 TinkerLab Art Starts
52 Projects for Open-Ended Exploration
Paperback

* Individual store prices may vary.
Description
Get inspired with hands-on creative prompts for children ages 3-8 featuring simple materials you can find at home from an experienced art teacher.

Open-ended art prompts that give children opportunities to think creatively rather than follow directions are essential to raising learners who are comfortable with the unknown and eager to tackle it with problem solving skills, self-efficacy, and critical thinking.

From drawing, painting, and paper cutting to making three-dimensional art with clay and recycled materials, these 52 fun and engaging ideas for creative art play use everyday household materials to get kids engaged in their own explorations. These activities are led primarily by the environment. The set up itself is the teacher and will encourage children to think of creative ways to use the provided materials. With foundational information at the start of the book, parents will understand the power of art prompts to foster children's creativity and will be given a variety of ideas for creating a makering space and encouraging self-directed play.
Roost Books, 9781611806687, 176pp.
Publication Date: November 24, 2020
About the Author
RACHELLE DOORLEY is an educator focused on creativity, art education, and improvisational art-making. She's the founder of the popular art and creativity website, TinkerLab.com, a Stanford lecturer, and author of three books including TinkerLab: A Hands on Guide for Little Inventors, TinkerLab Art Starts, and Creative Adventures in Cursive. Prior to founding TinkerLab, she worked as a museum educator, classroom teacher, Hollywood film costumer, theme park entertainer, and cruise ship chef. She works out of a magical studio filled with old books, sharp pencils, and endless paper. She lives with her family in Palo Alto, CA. You can learn more at tinkerlab.com.