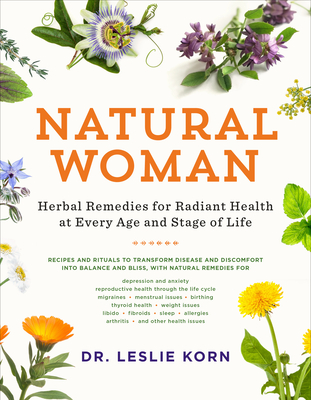 Natural Woman
Herbal Remedies for Radiant Health at Every Age and Stage of Life
Paperback

* Individual store prices may vary.
Description
An herbal guide to support physical, mental, and spiritual health for women and their children at all stages of life--by a healer with over 40 years of experience.

Plant medicines are a woman's ally to achieve optimal health; they bring balance and nourishment to daily life and can reduce or eliminate symptoms of physical and emotional distress. They can also provide alternatives to many pharmaceuticals. This go-to herbal sourcebook gives women the tools to thrive throughout their lives, with remedies using common herbs and plants to support a healthy body, mind, and spirit.

Dr. Leslie Korn brings over forty years of experience in numerous herbal traditions and healing modalities, offering timeless wisdom in this herbal companion that can be shared with friends and passed down in the family for generations. She offers treatments using common and easy-to-obtain herbs to address sleep disorders, menstrual issues, autoimmune conditions, anxiety, headaches and migraines, stomach issues, fertility issues, postpartum recovery, skin ailments, common discomforts that affect children, and much more.

Korn also offers herbal guidance for rites of passage, moments of community, psychoactive herbs, and a protocol for end-of-life care, as well as a comprehensive resources section.
Praise For Natural Woman: Herbal Remedies for Radiant Health at Every Age and Stage of Life…
"Natural Woman weaves together story, tradition, and timeless wisdom into a modern approach that helps us thrive in our lives as women. Leslie Korn inspires us to nurture our health and well-being in all stages of life."—Bevin Clare, President, American Herbalists Guild

"Natural Woman sets a new standard of excellence for books on women's health. Dr. Korn skillfully balances her encyclopedic knowledge of healing and health with deep reverence for the sacredness of all beings. A must-read for all women seeking a more natural path to mind-body-spirit health."—James Lake MD, founding member and former Chair, American Psychiatric Association Caucus on Complementary and Integrative Medicine

"Natural Woman is an engaging and highly informative read that addresses many aspects of women's health. Thoroughly researched and highly detailed, Dr. Korn's book integrates decades of wisdom and clinical experience with plants and natural remedies. Full of creative recipes and practical advice, this book prepares the beginner in the skills of natural health, yet also offers advanced clinicians new and riveting perspectives on relevant topics in the field. There's something for everyone in this comprehensive book."—Renee Davis, MA, RH, Clinical Herbalist

"Since moving to the jungle of western Mexico as a young woman, Dr. Leslie Korn has spent over four decades studying the use of herbs by indigenous healers. Her new book, Natural Woman, is an accessible and comprehensive resource that shows how herbs support health, heal physical, emotional, and spiritual illness, and add delight and nourishment to our food. The reader-friendly organization of the book allows easy access to specific health conditions and specific herbs. Particularly moving is a chapter on the use of herbs in rituals that mark important life passages. This book is encyclopedic, and Korn peppers her impressive knowledge with stories about her own meaningful encounters with herbs. Natural Woman will provide assistance to women in all phases of life and will create a much-needed link to the healing wisdom found in indigenous cultures."—Kathryn Ridall, PhD, author of Dreaming at the Gates

"Natural Woman combines Leslie Korn's lifelong experience-based knowledge as an herbalist with her extensive training in trauma therapy to create a one-of-a-kind, easily accessible, and holistic approach to self-care. Consistent with her immense body of work, Natural Woman combines western science with indigenous-based knowledge to understand women's wellness as the integration of mind, body, and spirit, but with caveats: we must not use plants without considering potential impacts to environments and indigenous peoples. For this and so many more reasons, this is a delightful and immensely useful book."—Dina Gilio Whitaker, author of As Long as the Grass Grows

"Dr. Korn teaches us to listen to the plants as she shares personal stories of deep healing and the many uses of traditional herbal medicine. This book is filled with brilliantly-written stories of past and current healing."—Mary Ann Osborne, DNP, ARNP Integrative Medicine 

"It's time for women to reclaim their bodies, minds, and entitlement to joy, vitality, and emotional depth. Natural Woman is a practical and comprehensive roadmap to working with plants, indigenous feminine wisdom, and our sacred kitchens in order to free us from the constraints of a medical system that would otherwise hold us captive. This beautiful book will be featured prominently on my shelf for years to come!"—Kelly Brogan, MD, New York Times bestselling author of A Mind of Your Own
Shambhala, 9781611806717, 320pp.
Publication Date: December 17, 2019
About the Author
LESLIE KORN, PhD, is a clinician specializing in mental health nutrition and integrative medicine. A core faculty member of Capella University's Mental Health Counseling Program, she served as a Fulbright scholar on traditional medicine, a Clinical Fellow at Harvard Medical School, and a National Institutes of Health-funded research scientist in mind/body medicine. In 1975, she founded the Center for Traditional Medicine, a public health clinic in rural indigenous Mexico that she directed for over 25 years. Author of nine books, she teaches and consults internationally for mental health professionals and tribal communities. Her website is Drlesliekorn.com.
or
Not Currently Available for Direct Purchase