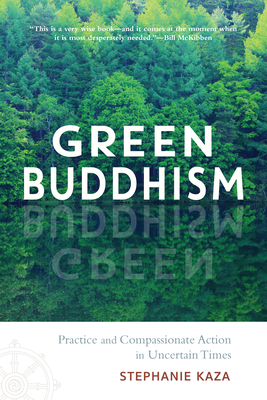 Green Buddhism
Practice and Compassionate Action in Uncertain Times
Paperback

* Individual store prices may vary.
Description
At a time of growing environmental crisis, a pioneer of Green Buddhist thought offers challenging and illuminating perspectives.

With species rapidly disappearing and global temperatures rising, there is more urgency than ever to act on the ecological crises we face. Hundreds of millions of people around the world—including unprecedented numbers of Westerners—now practice Buddhism. Can Buddhists be a critical voice in the green conversation? Leading Buddhist environmentalist Stephanie Kaza has spent her career exploring the intersection of religion and ecology. With so much at stake, she offers guidance on how people and communities can draw on Buddhist concepts and practices to live more sustainable lives on our one and only home.
Praise For Green Buddhism: Practice and Compassionate Action in Uncertain Times…
"Stephanie Kaza is a wise woman working in a wise tradition, and so this is a very wise book—and it comes at the moment when it is most desperately needed."—Bill McKibben, author of Falter: Has the Human Game Begun to Play Itself Out?

"An exquisite and prophetic book, where mind, heart, and body embrace the mystery of the natural world."—Joan Halifax, author of Being with Dying and Standing at the Edge

"Kaza's writings embody the classical Buddhist virtues of insight and compassion and have also helped create an authentic, morally committed, environmentally aware and activist American Buddhism. A very valuable and for teachers very useful book."—Roger S. Gottlieb, author of Morality and the Environmental Crisis and A Greener Faith
 
"Stephanie Kaza is a leading voice for Buddhism and ecology. This eloquent book brings together a lifetime of reflection, meditation, teaching, and practice. To read it is to sense the depths of wisdom and the breadth of compassion for the future of our Earth community."—Mary Evelyn Tucker, Yale Forum on Religion and Ecology

"Green Buddhism is part Buddhist philosophy, part exquisite naturalist observations, part history of Buddhist environmentalism, part roadmap to action—all woven together seamlessly by one of the elders and visionaries of the Buddhism environmentalism movement. Lose yourself in these essays. Study the tools, grapple with the ideas, learn as much as you can (she'll tell you exactly how Buddhists can contribute to climate change action). Then come out ready to act. This book should be required reading in our turbulent times."—Diana Winston, Director of Mindfulness Education, UCLA's Mindful Awareness Research Center

"Stephanie Kaza is such an amazing combination—a biologist who was for a long time professor of Environmental Studies in Vermont, trained in the Unitarian ministry, and for decades a practitioner in the Zen tradition. Her passion and experience pervade these essays, which sparkle with insight. Kaza is always rewarding reading."—Daniel Cozort, author of Highest Yoga Tantra

"Anyone interested in how Buddhist teachings can be brought to bear on environmental issues should read this book by Stephanie Kaza, a leading figure in Buddhism and ecology.  Drawing from her expertise and experience as a scholar-practitioner, she guides us skillfully along the green Buddhist path. I imagine other readers will join me in relishing her lyrical and engaging treatment of such topics as intimate encounter with nature, ecologically engaged spirituality, the greening of Buddhism, the challenge of consumerism, the contours of a Buddhist climate ethic, and the ritual celebration of changing seasons."—Christopher Ives, author of Zen on the Trail: Hiking as Pilgrimage

"Such a blessing to have the essays of pioneering spiritual ecologist Stephanie Kaza in one volume! Her vibrant writing joins scientific savvy, a compassionate heart, and an abiding concern for the planet. Her green Buddhism calls all of us to wakeful activism and greater intimacy with all things." —Judith Simmer-Brown, author of Dakini's Warm Breath: The Feminine Principle in Tibetan Buddhism

"Stephanie Kaza's Green Buddhism is a magnificent compilation of essays, reflecting her intimate engagement with natural history, ecology, Buddhism, and social justice. Her work stands out as deeply personal and reflectively astute, while also learned, scholarly, engaged, and most of all, pertinent. What a stunning blend of memoir, direct experience, and wisdom!"—Mitchell Thomashow, author of Ecological Identity and Bringing the Biosphere Home
Shambhala, 9781611806748, 264pp.
Publication Date: March 12, 2019
About the Author
Stephanie Kaza is Professor Emerita of Environmental Studies at the University of Vermont. Her previous books are Mindfully Green: A Personal and Spiritual Guide to Whole Earth Thinking and Conversations with Trees: An Intimate Ecology. She is the editor of Hooked! Buddhist Writings on Greed, Desire, and the Urge to Consume and coeditor (with Kenneth Kraft) of Dharma Rain: Sources of Buddhist Environmentalism. To learn more, visit www.stephaniekaza.com.